Cleaning Position at Cashel Community School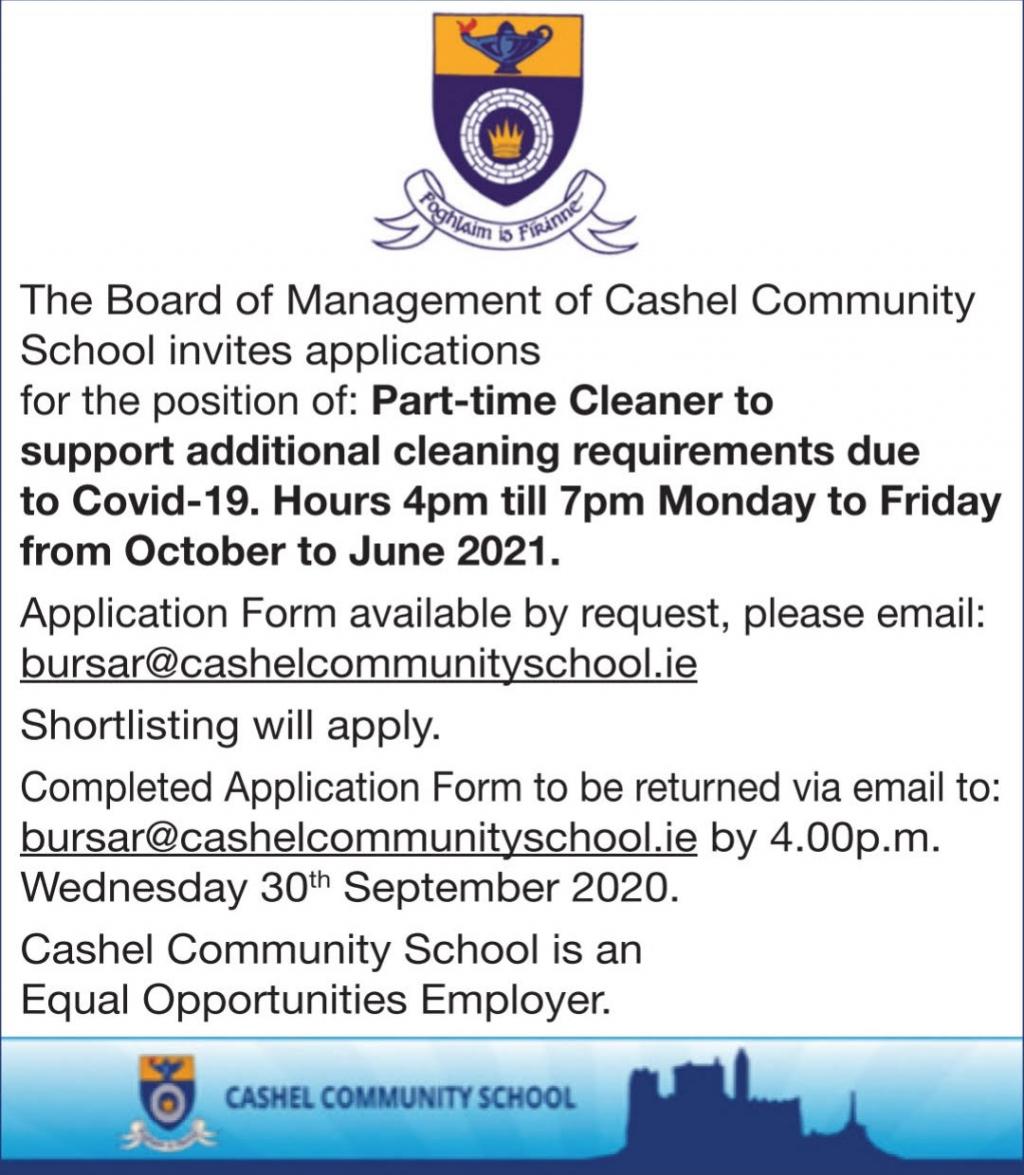 The icing on the cake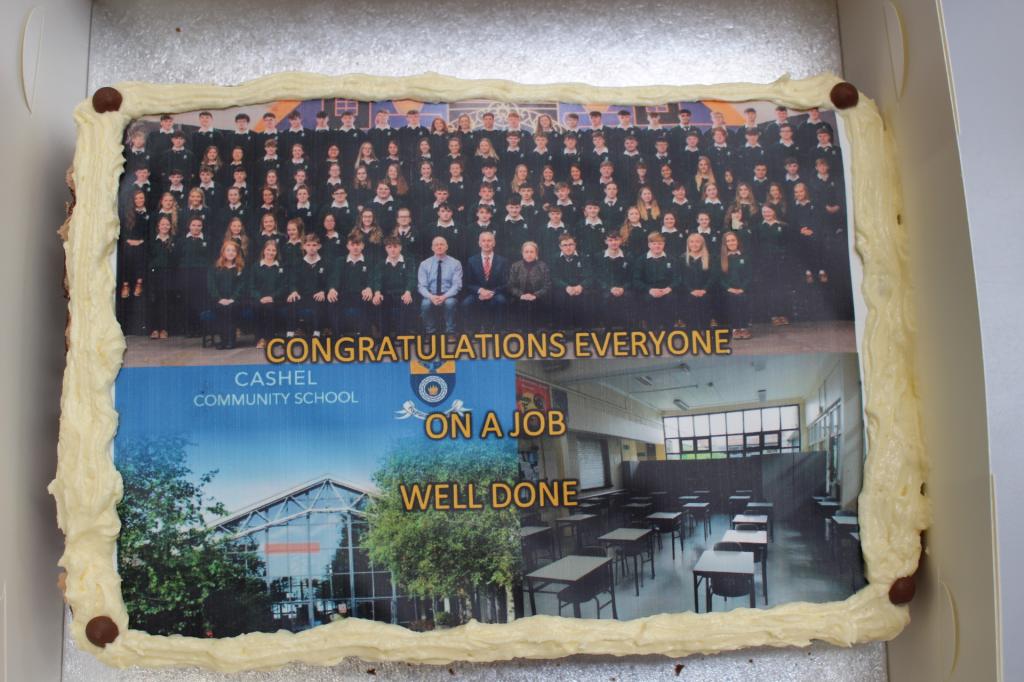 Leaving Cert Results of the class 2020
Congratulations Class of 2020
Congratulations to the class of 2020,who raised the Cashel Community School flag even higher.Best of luck on Friday with your CAO offers.From the Staff and Students of CCS
Congratulations to Emma Ryan / WIT Presidents Scholarship
Congratulations to Emma Ryan, following her magnificent honour of the announcement that she is to be a recipient of this year's WIT Presidents Scholarship. The WIT President's Scholarship programme encourages and rewards inspiring people who demonstrate a capacity to shape a better society.WIT believe that there are many different types of people who make our world a better place. The scholarship recognises that people excel in life and contribute to society in many different ways. Some are creative, some are innovators, others are great leaders and more make significant contributions to our community.
Well Done to the Class of 2020 Leaving Cert Results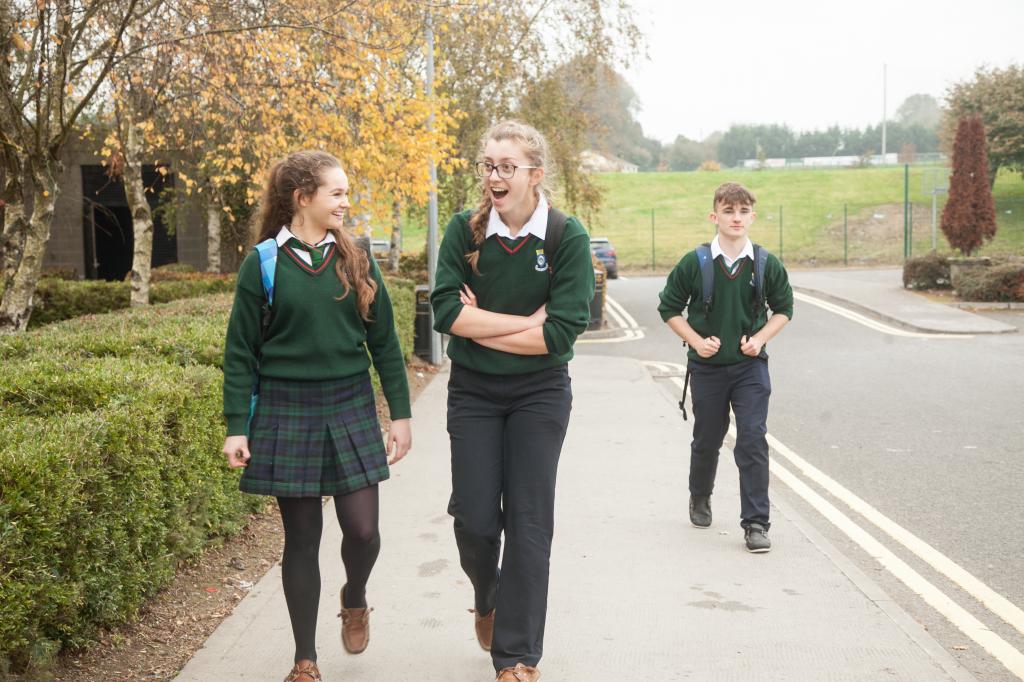 Monday the 7th of September, has loomed large in the minds of Leaving Cert students in Cashel Community School since the calculated grade system was announced and roll out earlier this year. In the same way as the grey clouds have hovered over the country all summer, the thoughts of the Leaving Cert students have drifted to results day. The results of this year's calculated grades process were available to students online at 9.00 a.m. on Monday morning. The day was a very big day in the lives of Cashel Community School class of 2020. For the school it has been no ordinary year and for the class of 2020 whose starting point for Irish calculated grades model was the percentage point and rank order provided by the school. However the publication of the results released the anxiety and uncertainty surrounding the new normal. The Principal Mr Gallagher declared "Congratulations to the Class of 2020 on an outstanding performance in this year's Leaving Certificate exams. The students excelled across the board maintaining Cashel Community Schools long tradition of academic achievement". On receipt of the results Cashel Community School students celebrated their Leaving Cert results, with one student Jennifer Fogarty achieving the magic 625 points. The prospects of a bright future began to dawn for the class of 2020 with these results which will open new horizons for the 140 students who received their results. With those results safely in hand and the important points total calculated followed by essential phone calls, many students took the opportunity to share their good news via e mails with their teachers. The Deputy Principal Ms Moore said "It was marvellous to hear those young people received the results of all their efforts. This year's results were truly spectacular with results in all areas being above the national average".
Government's Roadmap for Reopening Schools
Dear Parent/Guardian, I hope that you and your family are safe, well and enjoying your summer break. I am writing to you to inform you that the Minister for Education Norma Foley has revealed the full details of the Government's blueprint for reopening schools this autumn. The Minister has published a roadmap outlining the procedures, measures and supports required to enable all of our staff and students to return safely to the classroom. Please find for your attention the complete roadmap attached to this correspondence. These guidelines will enable Cashel Community School to welcome all its staff and students through its doors for the start of the new school year. Over the past month our school has been working very hard to make sure that the school building and grounds will be safe for the return of all of the students, teachers and parents. This will mean some new routines and rules to keep everyone safe. We will support you to learn these new routines and rules over the coming weeks. Our staff are really looking forward to welcoming students back and helping them re-engage with learning in school. We know that most students will be looking forward to returning to school and meeting up with friends, teachers and other school staff. Many will feel excited, relieved and happy. Some may feel a little anxious and worried about getting back. That's to be expected and it's a normal response at a time of transition and change. That said our school staffs know that wellbeing is important and needed for learning to happen. Therefore, we as a school community will prioritise and promote wellbeing during this time to ensure students have the skills to make a smooth return to the classroom. Please note that Included in the roadmap is funding to provide supports, including counsellors and psychologists, for the well-being of staff and students. Please note we will continue to update you on developments over the next month your attention to these correspondences is vital to ensure the enactment of the guidelines included within this detailed roadmap. Here are the main points contained in the school reopening plan Getting to school Ms Foley said more than €11m will be ring-fenced for changes to school buses in an attempt to ensure the safety of school children during Covid-19. She said this will involve some changes to the interior of these buses. Minister Foley also said classes travelling on school buses will be treated as one unit, but that students will be asked to sit next to their siblings where appropriate. Secondary school pupils will be expected to wear a face covering on school buses, apart from those with medical exemptions. They will use hand sanitisers upon boarding and are asked to sit next to the same sibling or pupil during each journey. Physical distancing There will be a one-metre distancing between pupils. When a child might be tested At this evening's Department of Health briefing, Dr Siobhán Ní Bhríain said the National Public Health Emergency Team was working on guidance for parents about when a child would need to be tested for Covid-19. She said parents would need to contact their GP if they had any concerns about their child's health, even if they assumed it was just a head cold. She said it may be that all children who get a temperature would have to be tested. Dr Cillian de Gascun said the National Public Health Emergency Team was also examining different ways of testing children, saying the current swab test was "not very pleasant" . If there is an outbreak A designated individual - the school's lead worker for Covid-19 - will have a plan in place for this scenario. Each school will have an isolation area where a child is taken if they feel unwell. If a child tests positive for Covid-19, the necessary public health steps will be taken. The judgement as to whether a classroom or an entire school has to go into self-isolation following a positive case will depend on public health advice at the time, according to Minister Foley. Cleaning €52 million has been announced for enhanced cleaning and hygiene measures to reduce the risk of Covid-19 transmission in schools. This is being provided on a per-pupil basis and is intended to allow an additional four to six hours of cleaning per day in schools. The Education Minister also said there would be opportunities for schools to receive Personal Protective Equipment. Teaching staff An additional 1,080 teaching posts at secondary level at a cost of €53m with an initial allocation of 600 posts has been announced. This will include 120 guidance posts to support student well-being. Additional funding, estimated at €84.7m, was announced so that schools can employ replacement teaching staff, SNA and administrative staff. This can occur where staff members who are identified in line with HSE guidance as at "very high risk" of Covid-19 are advised to cocoon. €40m has been announced to provide secondary schools with additional supervision of students. At primary level, funding of €41.2m for substitute staff was announced. Special educational needs There will be additional funds for special schools and mainstream schools with special classes to support them in reopening fully. This includes making sure that all SNA absences are fully covered so that children with complex needs receive the support that they require. The plan notes that some children who have complex medical or special educational needs may not be able to return to school at the end of August because the relevant public health guidelines indicate they are at "very high risk". Schools will have discretion to manage and redistribute their teaching support resources in order to best meet the learning needs of these students. The plan "recognises that pupils with SEN (special educational needs) will require particular support" to transition back to school. Infrastructure A €75m capital allocation was announced to prepare buildings and classrooms for reopening, including uplift for schools with SEN pupils. Regards, Mr Gallagher https://aef6e61d7a502de4127f-e3d6cec3d053fc9a03ef4a4c0fe9b857.ssl.cf3.rackcdn.com/pdf/1774_20200728085431.pdf