Starcamp
STARCAMP are thrilled to be in Cashel Community School from 9th-13th August this summer. They cannot wait to give children the ultimate uplifting and fun experience that has never been more needed than now. They are overly aware that children have been massively but silently effected throughout the crisis. With a theme of "SPREAD THE SUNSHINE", they have done everything possible to create a program with a focus on rebuilding confidence, bringing back laughter and showing kindness. They have also created an "ONLINE SUMMER CLUB" this year, which will entertain for hours on end over the summer months, but which are particularly suited to children with underlying conditions who are not yet in a position to attend camps. Parents, guardians and teachers can all find more information about our camps on our website www.starcamp.ie "This year's theme is "#SPREADTHESUNSHINE" and it promises to do just that. They are so excited to put smiles on faces for the Summer of 2021! STARCAMP wouldn't be STARCAMP if it didn't have the usual mind-blowing offering of DANCE, DRAMA, MUSIC, MAGIC, COMEDY, NEWS & WEATHER REPORTING, ART, GAMES, TIK-TOK's, MINDFULNESS, HOW TO MAKE A RADIO SHOW (older kids), ELVES, FAIRIES & VIP TEDDY BEAR PICNICS (younger kids) as well as it's renowned core ethos of building children's self-esteem and confidence, but this year you can add loads of new outdoor activities and SO MUCH MORE! We promise an atmosphere like never before with boundless positivity, excitement, laughter and fun for all! The camp in ​your town can be booked directly through the following link - STARCAMP BOOK NOW"
Congratulations!
Congratulations to the class of 2021 .We are very proud of you.Your growth and accomplishments over the past years have been wonderful to watch. All the best as you embark on the next phase of your life's journey!
Sophie O'Meara is CCS Student of The Year 2021
Congratulations to sixth year student Sophie O'Meara who has been announced as CCS Student of the Year 2021. Mr. John Gallagher, Principal, stated, "The most prestigious award of the school year is the Student of the Year Award. When students arrive on our doorstep we ask them to fulfil their potential in a respectful manner. This is an opportunity to highlight outstanding deeds – the contribution that someone has made to the school and the wider community; and the inspirational nature of these accomplishments. The Student of the Year Award recognises a unique student who has attained this goal and in doing so as left an impregnable mark on all they have come into contact with them throughout their school life both inside and outside the classroom". Mr. Gallagher went on to say Sophie's outstanding display of academic achievements, personal qualities and support for school values, have added to the integrity of this award. In making their selection teachers were asked to take the following into consideration: academic record, achievements, leadership and initiative qualities, good interpersonal skills, school involvement, moral courage, any positive quality and someone who has credibility with both the staff and student body. The attributes displayed by Sophie over her time here has seen her always setting the bar at the highest level while prepared to push herself out of her comfort zone. Sophie has a great potential. She has displayed very strong moral values and an unbending will throughout the times spent with us. There is a satisfaction shining inside of Sophie. Having had the pleasure of observing Sophie, I can safely say she can serve as an example to many an adult with the level of responsibility and personal qualities shown on her journey within our school community. Sophie as a student is caring, demonstrates friendly attitudes to other students and always strives to help others. This is a sign of the outstanding person. She has friendly relationships with their peers and respects all people. Various people in their surroundings characterise this student as very pleasant, caring and attentive person". As a Principal I can emphasise the character features which contribute to a really strong individual. Such students are the dream of any teacher. Aristotle stated, "We are what we repeatedly do. Excellence, therefore, is not an act but a habit". I completely agree with this saying and emphasise that Sophie O'Meara is habitually excellent. She does not strive for recognition but focuses on the real and true values and contributions they can make. Sophie is a true citizen and I am sure will be a massive benefit to our society with their qualities and achievements. To conclude, I want to mention the words of famous scientist Albert Einstein, who said, "Try not to become a person of success but a person of value". It does not matter what is your position in the society and how many regalia do you have. The most important thing is to be someone who brings quality to society, who contributes their efforts, skills and knowledge to improve one's life and the lives of other people. To this end, I believe Sophie is worthy of the award the Student of the Year. We wish to acknowledge all the students who did not win awards this year but nonetheless make a very valuable contribution to life in Cashel Community School. We encourage your ongoing participation in school life and look forward to being able to reward your achievements in the future. Mol an óige agus tiocfaidh sí mar a deir a seanfhocal. We also wish all our award winners the very best in the future and especially our 6th year students who will be facing into state examinations in the coming weeks.
Global Citizenship Action :Sustainable Development Goal 14 - "Life Below Water" Project By Jewel Bongcaras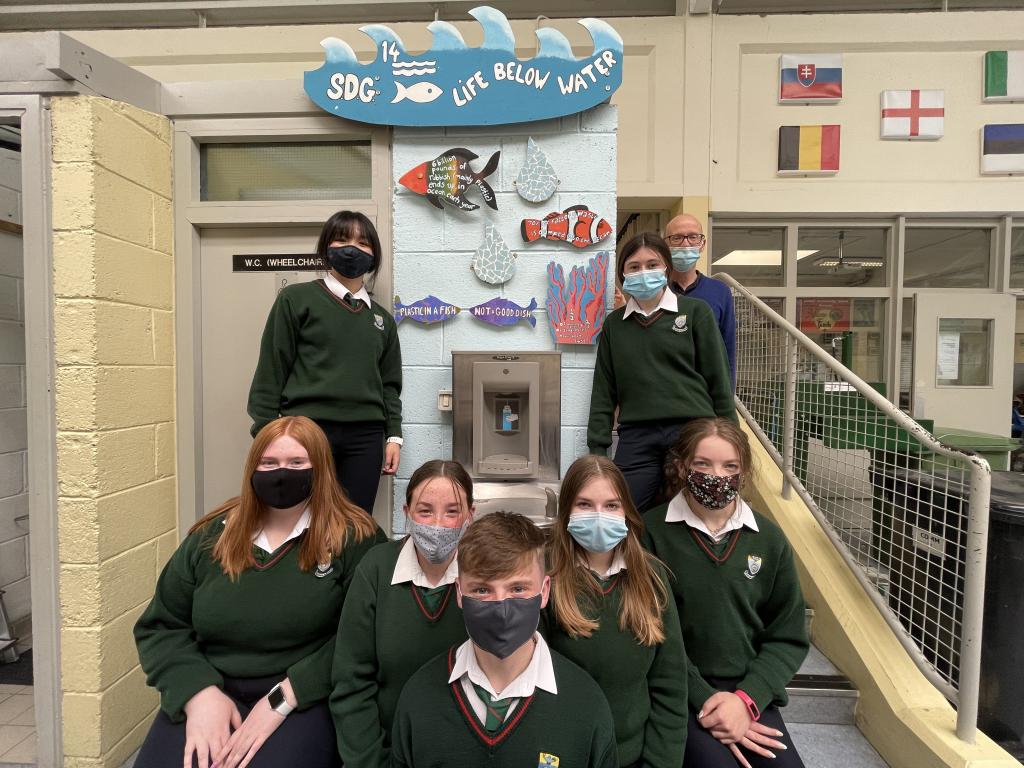 At the beginning of the school year, Mr Hassett had informed my C.S.P.E class that himself and Mr Dunne had intended to start an art project. He encouraged any art students or any individuals who would like to engage in this project, to participate in it. We were told that this task was relating to "Life Below Water" - the 14th Sustainable Development Goal. Marine pollution, the endangerment of coastal ecosystems and unsustainable fishing etc., are all unfortunate dilemmas that are happening in our oceans worldwide to this day. This project's purpose is to spread awareness and educate our community about our ocean's suffering and also offer a wider perspective on this. Simple acts such as reducing our carbon footprint, to replacing single use plastic with reusable options, can contribute to our journey of reviving our oceans. We have displayed this project above a water fountain, beside the stage room in the school. The layout of this project consists of a large painted blue wave shaped piece of timber, vibrant, timber shaped as fish and corals and tile water drop mosaics. Remembering to be sustainable during the progress of this project, all material such as the timber and the paints that we used were all recycled! We had also painted the wall that supports the water fountain, light blue, which I think it compliments it very well. Each timber fish/coral includes a fact about the truth of our ocean - they can be hard to believe! Although on this project, we've portrayed the negative, truthful side of our impact on our oceans, I believe that this can really awaken us as a community to start thinking and acting sustainably for our oceans. I am so grateful that I was able to participate in this project with passionate, innovative, artistic students and staff members. Thanks to Abbie Corcoran, Dylan O' Gorman Ryan, Molly Gilmartin, Aurelija Vinslauskaite, Mia Doherty, Abigail McCormack, Mr Dunne, Mr Hassett and any staff members/TY students that helped us along the way, for contributing in this project. Thank you to the teachers who gave us, the students, consent to leave some of our classes to work on this. We would greatly appreciate it if you could visit our finished project!