Craft Fair at CCS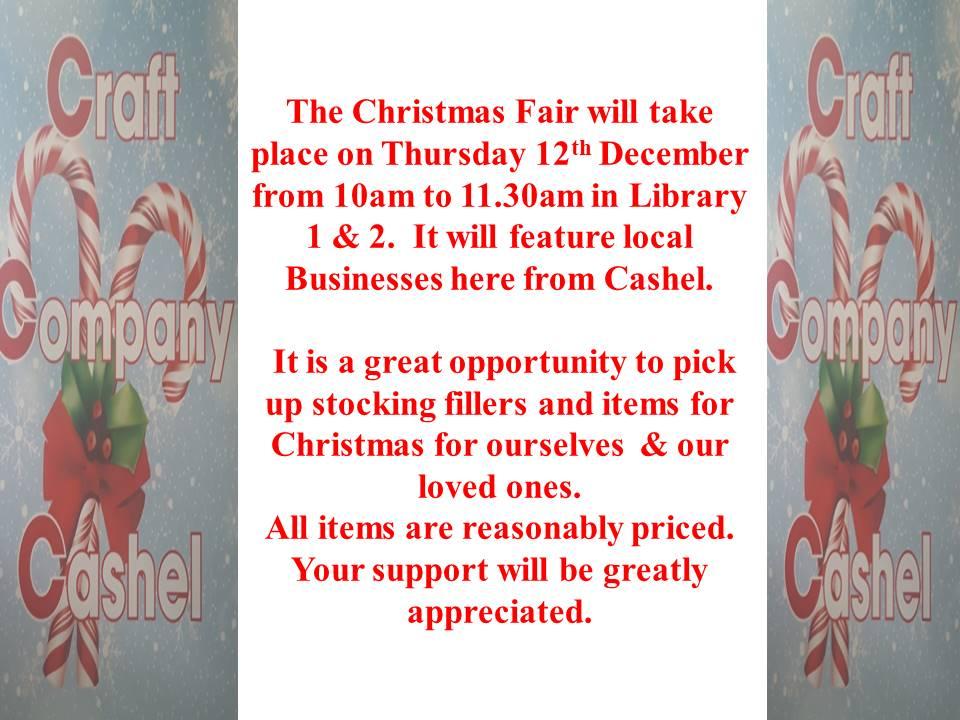 TY Enterprise students holding a Christmas Craft Fair on Thursday 12th from 10am to 11.30. 15 local Businesses will be in attendance selling stocking fillers & gifts for Christmas. Don't forget your wallets on Thursday morning!
Donnacha O Dwyer J.P Mc Manus All Ireland Scholarship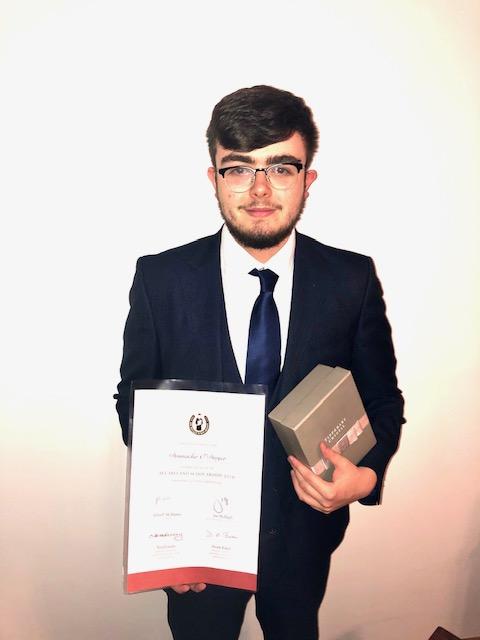 Donnacha O Dwyer a student from Cashel Community School has been awarded full academic support for the duration of his third level studies as part of the prestigious All-Ireland Scholarships programme. Donnacha was among 125 students from across the island to be awarded the accolade. He attended a ceremony at University Concert Hall (UCH) to mark his achievements. Also present were outgoing Ireland rugby head coach Joe Schmidt, JP McManus, who sponsors the scholarships, Minister of State for Higher Education Mary Mitchell O'Connor and the deputy secretary at the Department for the economy, skills and education group in Northern Ireland, Heather Cousins Sponsored by JP McManus, the 3rd level educational scholarship is awarded to a minimum of two highest-achieving students from each of the 32 counties. They must meet a further set of criteria, including attending a non-fee-paying school and being exempt from the Leaving Certificate fee. This year, seven All Ireland Scholarship recipients scored the maximum 625 Leaving Cert points. The most popular area of study is medicine, closely followed by engineering and science. As a result of receiving the award - worth €750 a month to each student - Donnacha will not have to work part-time, meaning he can focus entirely on his study. The ceremony saw students processing into UCH before receiving their bursaries from Ms O'Connor, Mr Downer and Mr McManus. Prior to this, video testimonies from previous students who won All-Ireland scholarships were played. Mr McManus said: "To the scholarship recipients of 2019 I offer my sincere congratulations; your hard work and commitment is a testimony to your ability and ambition, and I know you will build on your success and continue to strive for excellence in your ongoing studies and future careers." Established in 2008, the scholarships are valued at €6,750 per year in Ireland. Guest of Honour, Joe Schmidt, commended the 125 students. "Education is a hugely important part of every young person's development in life, and it's fantastic to be able to be here today to recognise first-hand the outstanding achievements of each and every student present. I encourage them all to keep working hard and to make the most of their opportunities," he said. Congratulating this year's recipients, Minister for Higher Education, Mary Mitchell O'Connor TD said, "These young women and men deserve our warmest congratulations. Their schools, teachers and families can take great pride in their achievements. They have worked exceptionally hard to get this far. They have already shown the stamina and drive that I expect will be rewarded as they move forward through their studies and on into careers." The programme is administered by the Department of Education & Skills and the Department for the Economy with support from the Department of Education, Northern Ireland. To date, 1,496 students have been awarded an All-Ireland Scholarship and 905 have graduated from university. Previous Guests of Honour have included Irish Presidents Michael D. Higgins and Mary McAleese, 42nd President of the United States, Bill Clinton, and sporting heroes AP McCoy, Paul O'Connell, John Kiely and Martin O'Neill.
Jesse Tree
As part of their Religion Class, 3 Errigal decorated the tree in the sacred space using the symbols of the Jesse Tree. Jesse Trees are a very old Christmas Tradition and first started in medieval times. They are used to help tell the story of the Bible from creation to the Christmas Story. The Jesse tree represents Jesus' family tree. The symbols tell of Jesus' ancestors and of the events leading to Jesus' birth.
TY language students attending #ThinkLanguages in the Convention Centre Dublin
Talks on the day highlighted the importance of a multilingual society, how languages provide global opportunities, greater life and travel experiences and lead to a wider circle of friends. All students attended workshops which included interpreting and translating with the European Commission, linguistics, spending a term abroad in TY and politics and languages. A wide variety of stands were also available to visit. These ranged from universities to global businesses. A fantastic experience that was enjoyed by all.
Christmas Craft Fair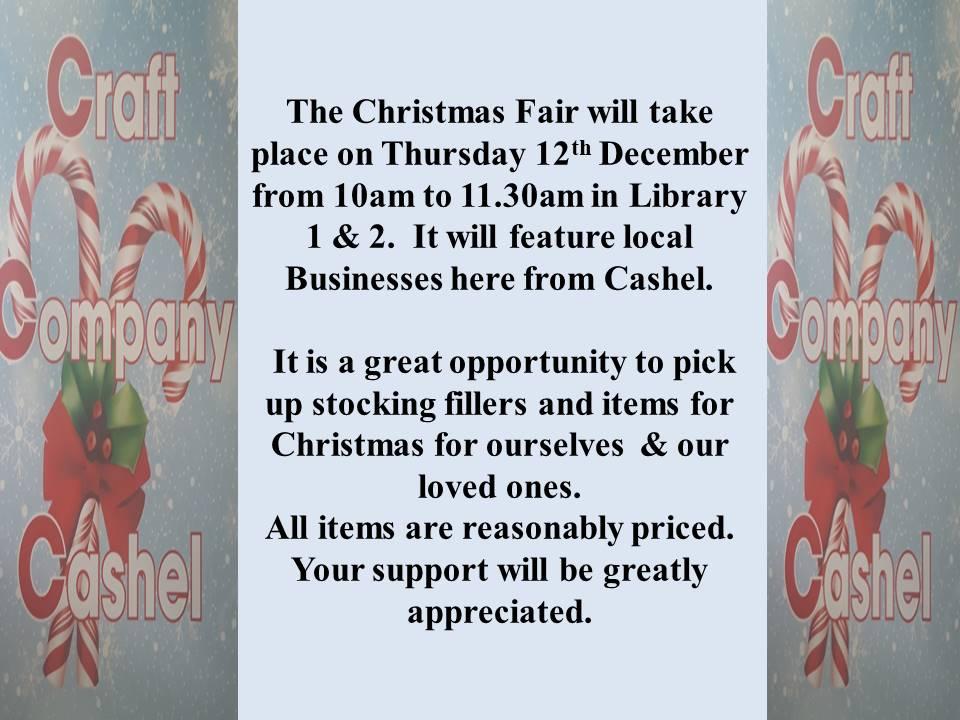 On Thursday 12th December, TY Enterprise group (Cashel Craft Company) are holding a Christmas Fair from 10am to 11.30am in Library 1 & 2. It will feature local Businesses here from Cashel. It is a great opportunity to pick up some stocking fillers.
Serena O'Dwyer receives her Gold Gaisce Award from President Michael D Higgins
The President's Award ceremony took place in Dublin Castle. The awards were presented by Michael D Higgins in a prestigious ceremony hosted by Sinead Burke. Serena O'Dwyer received her Bronze and silver award as a pupil of Cashel Community School and started her Gaisce journey to the Gold award in 6th year under the guidance of her President Award Leader Irene Codd. The Gold Award requires participants to undertake five challenges. Serena volunteered in Uganda for the Residential element. For her adventure journey she undertook a four day walk along the Wild Atlantic way, she volunteered as a mentor in a Big Brother Big Sister program where she assisted a young lady from a disadvantaged background. To keep fit for her physical section Serena chose dancing and finally for her personal skill she took singing lessons. Cashel Community School would like to congratulate Serena on this fantastic achievement. Her tenacity to complete all the requirements of the Award is to be commended. The Gaisce Gold Award challenge is not an easy one – it demands motivation, determination and focus over a minimum of 52 weeks but in most cases takes a number of years to complete. This achievement not only demonstrates a personal determination, but also a commitment to the service of her community.
Human Rights Awareness Day 2019
The CSPE/GCE Human Rights Awareness Day 2019 took place today. Each first year student completed a project based on human rights. They attended a talk by Jim Cremin of Trócaire. The GCE student committee were present on the day. Darragh Hogan (GCE student committee) spoke about the work that is being done by the student committee at the moment in the school.
Quercus Entrance Scholarship to UCC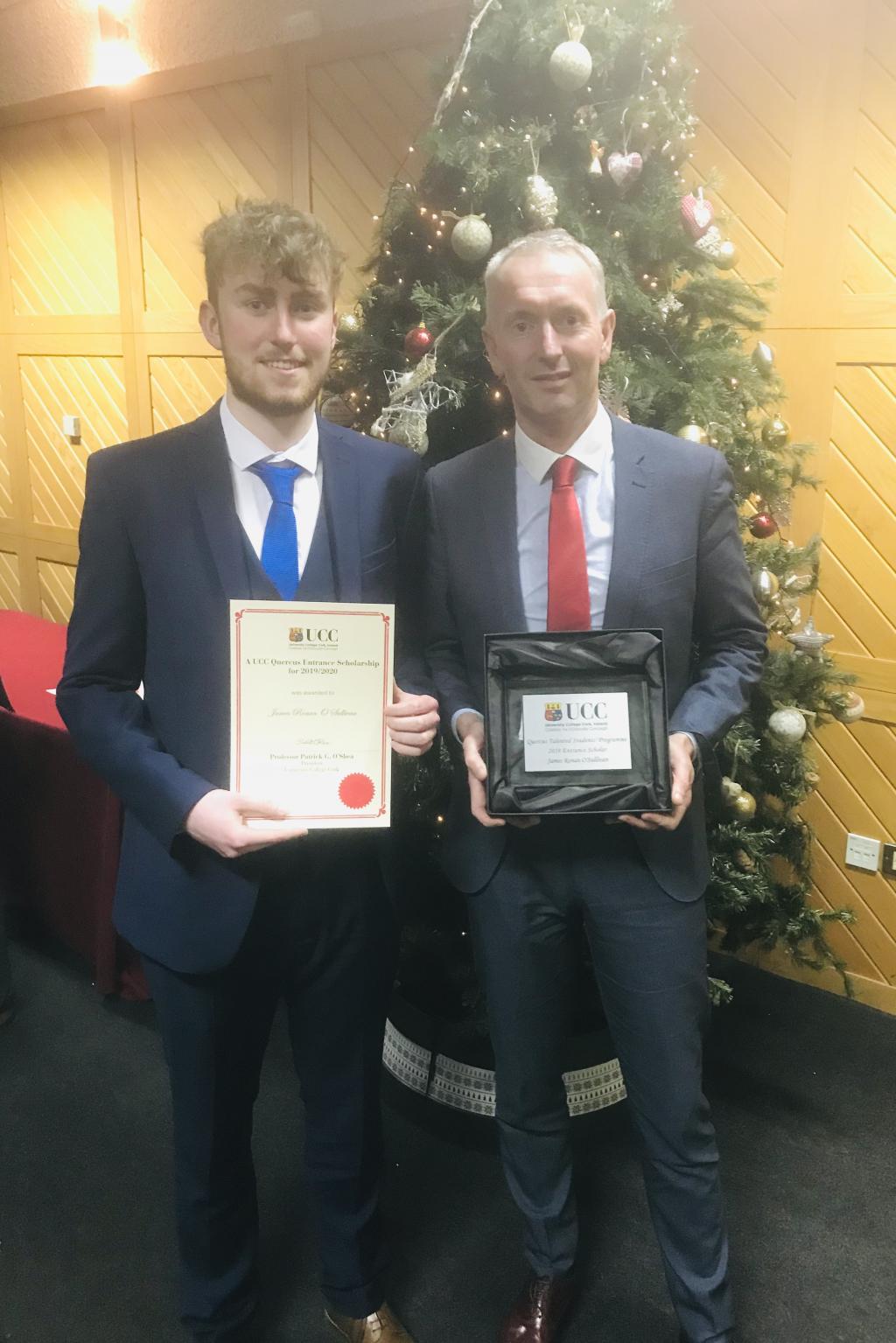 James O Sullivan, Leaving Certificate Student 2019, has been awarded the prestigious Quercus Entrance Scholarship to UCC having achieved the maximum 625 points in his Leaving Certificate. Principal, John Gallagher was delighted to accept an invitation to represent Cashel Community School at the Awards Ceremony in the Devere Hall, UCC on Monday, December 2nd 2019. UCC awarded Quercus Entrance Scholarships to 77 students at a ceremony celebrating their extraordinary academic achievements. Sixty Quercus Entrance Scholarships of up to €2,000 each, tenable in any College of the University, are offered for competition on the basis of results in the Irish Leaving Certificate Examination or equivalent. The Scholarships are tenable only in University College Cork, for the First Year of a full-time primary degree programme at University College Cork in the session following the Leaving Certificate Examination on which the award is based. The Quercus Talented Students Programme seeks motivated students who can demonstrate high intellectual achievement. James joins a select group of students in UCC to have been awarded a scholarship. His proud parents, Michael and Geraldine were also present at the ceremony. Their commitment to, and support of, their family's education in Cashel Community School and now in UCC has been recognised through James's award. As a recipient of the Quercus Scholarship, James will receive opportunities to participate in the Quercus lecture series and invitations to networking events. We wish James every success in his studies in Physics and Astrophysics and we look forward to hearing of his progress in the coming years.
Wellbeing Week
Wellbeing Week is celebrated in CCS this week among the highlights are Fit Dance classes and Humourfit Theatre Company presenting the drama "Hooked " dealing with addiction and "The Value Of Life " which deals with positive mental health . This is very kindly sponsored by Morrissey's Supervalu . We also welcome the Marie Keating mobile unit to CCS on Wed.Dec.4th from 10am to 2pm open to the public while TY and Fifth Year students will have presentations on cancer awareness in school .
CSPE Hike of Galtee Mountains: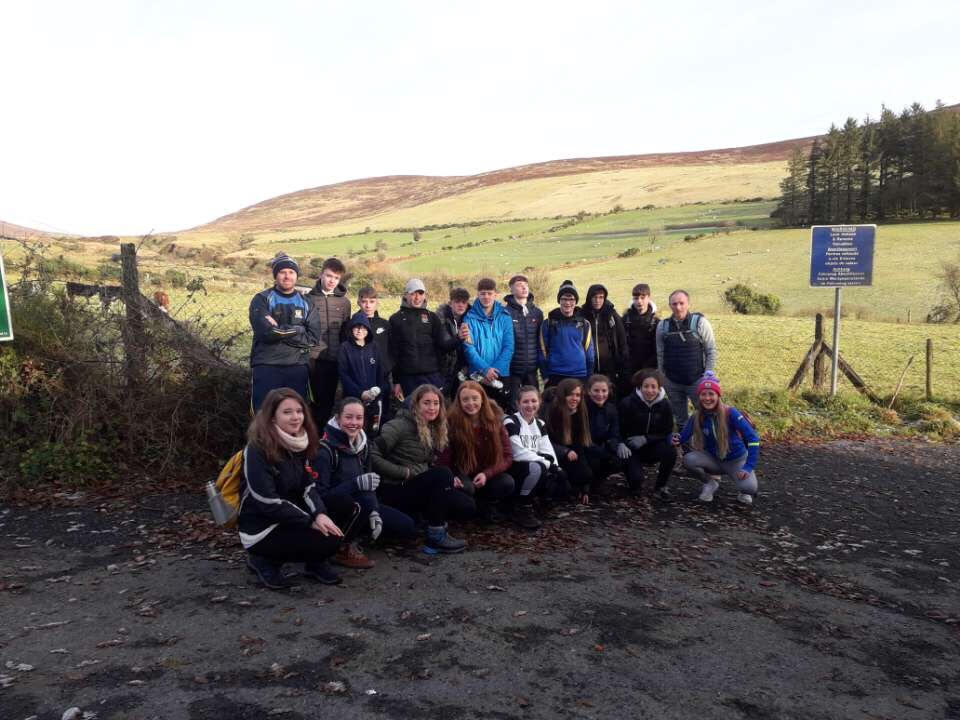 3 Kilworth CSPE class headed off on a hike of the Galtee Mountains on 2nd December. See report on attached pdf. https://aef6e61d7a502de4127f-e3d6cec3d053fc9a03ef4a4c0fe9b857.ssl.cf3.rackcdn.com/pdf/8715_20191203141152.pdf
SVP Christmas Food Appeal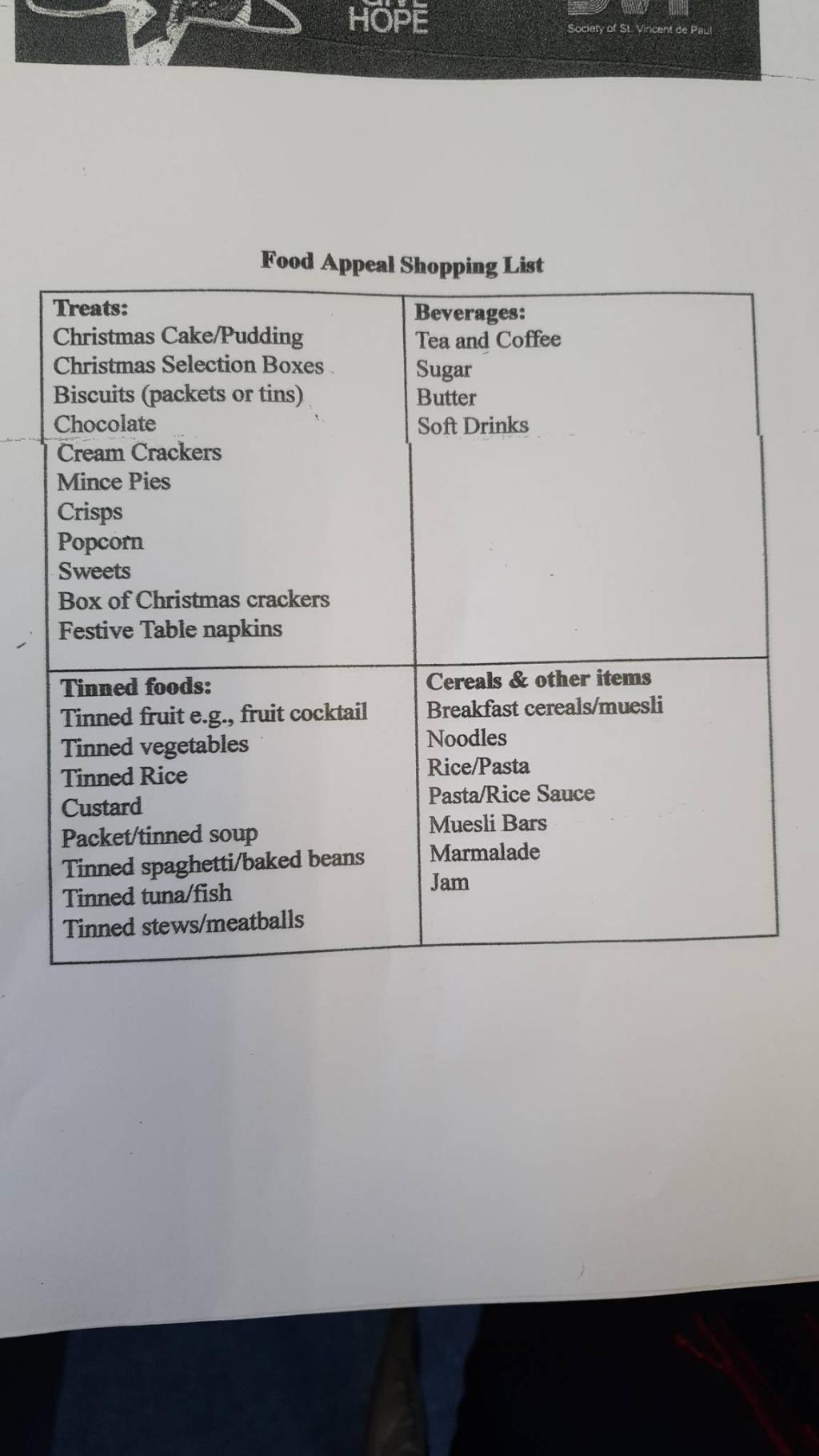 We are asking all students and staff of CCS to contribute to our annual SVP Christmas Food Appeal. Donations can be left in the Christmas sleigh by December 16th. Please see the list of suitable items in the picture attached. Many thanks in advance for your support - Mr. Tony Nolan, Chaplain
Letter to 2nd Year Parents from Year Head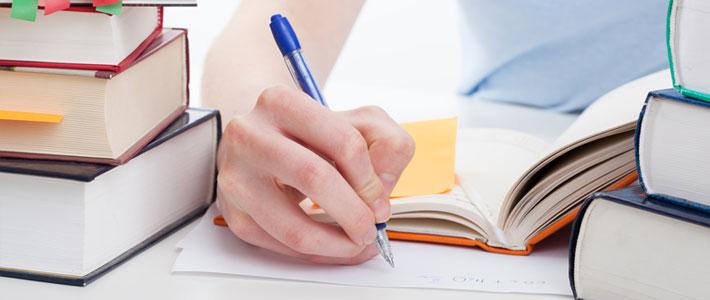 Dear Parents, Please see the attached pdf letter about a number of activities relating to teaching and learning involving 2nd year students since the beginning of this academic year. Kind Regards Cathal Farrell Year Head https://aef6e61d7a502de4127f-e3d6cec3d053fc9a03ef4a4c0fe9b857.ssl.cf3.rackcdn.com/pdf/6059_20191203092101.pdf
The Shona Project
This week to celebrate Wellness Week TY students will distribute booklets from the Shona Project , "The Survival Handbook for Girls". The book has loads of life hacks, advice, information and some interactive bits and pieces covering topics from how to deal with negative friendships, how to protect your beautiful, precious heart, how to deal with anxiety, and how to do your bit for the environment.. Click here to see an interactive version of this booklet https://shona.ie/lilbook/
Caoimhe is a Quercus Scholar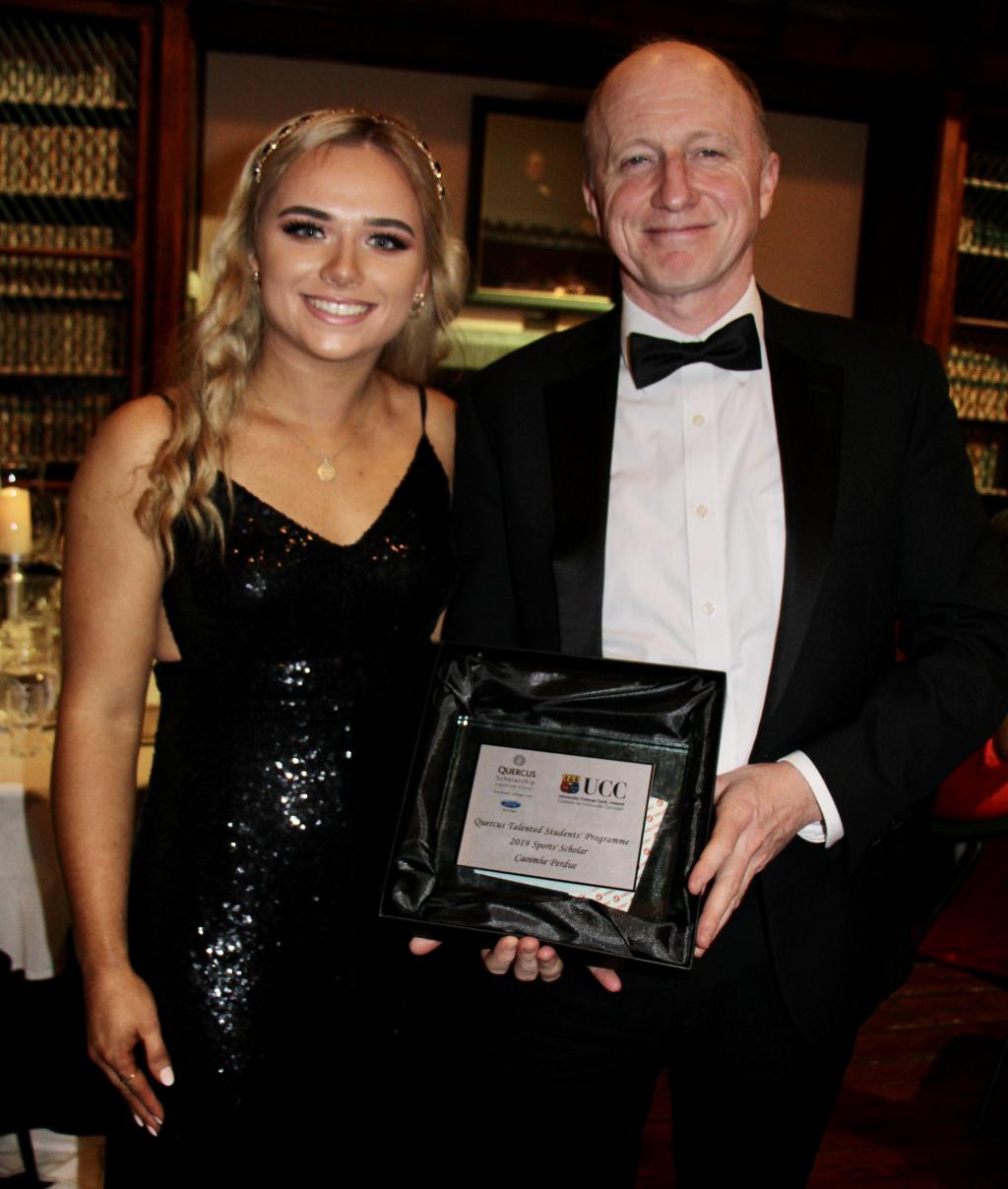 On Tuesday the 26th of November UCC awarded five UCC Quercus Scholarships for Sport to students at a gala dinner held in the Aula Maxima on the UCC Campus. Caoimhe Perdue was the proud recipient of one such scholarship. Quercus scholars are chosen because they demonstrate an exceptional level of excellence in their chosen Sport. Caoimhe Perdue is from Cashel in County Tipperary. She completed her Leaving Certificate last June in Cashel Community School and now she is in first year at UCC, studying Nutritional Science. Caoimhe has played hockey with Munster and Ireland at under 16 and under 18 levels and she is currently on the under 21 Irish team. She played EYHL with Cork Harlequins and has won an Irish senior cup title. Caoimhe hopes to play competitive hockey with UCC and progress with her Irish hockey career while securing a degree in Nutritional Science at UCC. University College Cork believes in creating an environment in which academic excellence can be combined with opportunities for personal development. One of the most important ways students further their personal development is by taking part in the wide range of sporting activities. Their students are amongst the most active in the country across an extensive range of sporting disciplines.. The Scholarship can be renewed for subsequent years, subject to a Scholar making a sufficient contribution to the sporting life of UCC, engaging with the activities of the Quercus Talented Students' Programme and being able to progress to the next level of study in their academic programme. Scholars will be expected to act as ambassadors for UCC in terms of their participation in sporting activities and in their participation in activities designed to promote the Quercus Programme. The act of balancing academic achievement, sporting excellence and personal development remains a challenge for talented Irish sports people. Through the Quercus Talented Students' Programme, UCC is committed to enhancing the academic and sporting achievements of young sports men and women in the country, as well as making a positive impact on the future of Irish Sport. Photo accompanying Caoimhe Perdue & Mr. John Murray (Deputy Principal CCS)
International Soccer Trials for Caoilinn and Michaela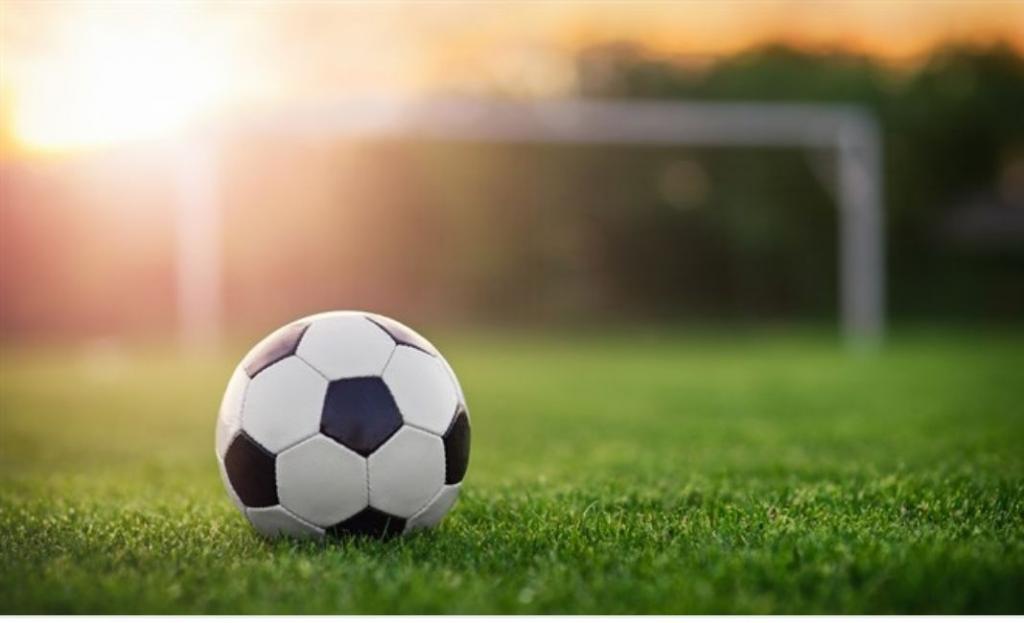 We would like to wish the very best of luck to two of our 3rd year students, Caoilinn Casey and Michaela Lawrence, who are in Dublin tomorrow for the U/15 Girls International Soccer trials.
Emily Coleman receives national award for top marks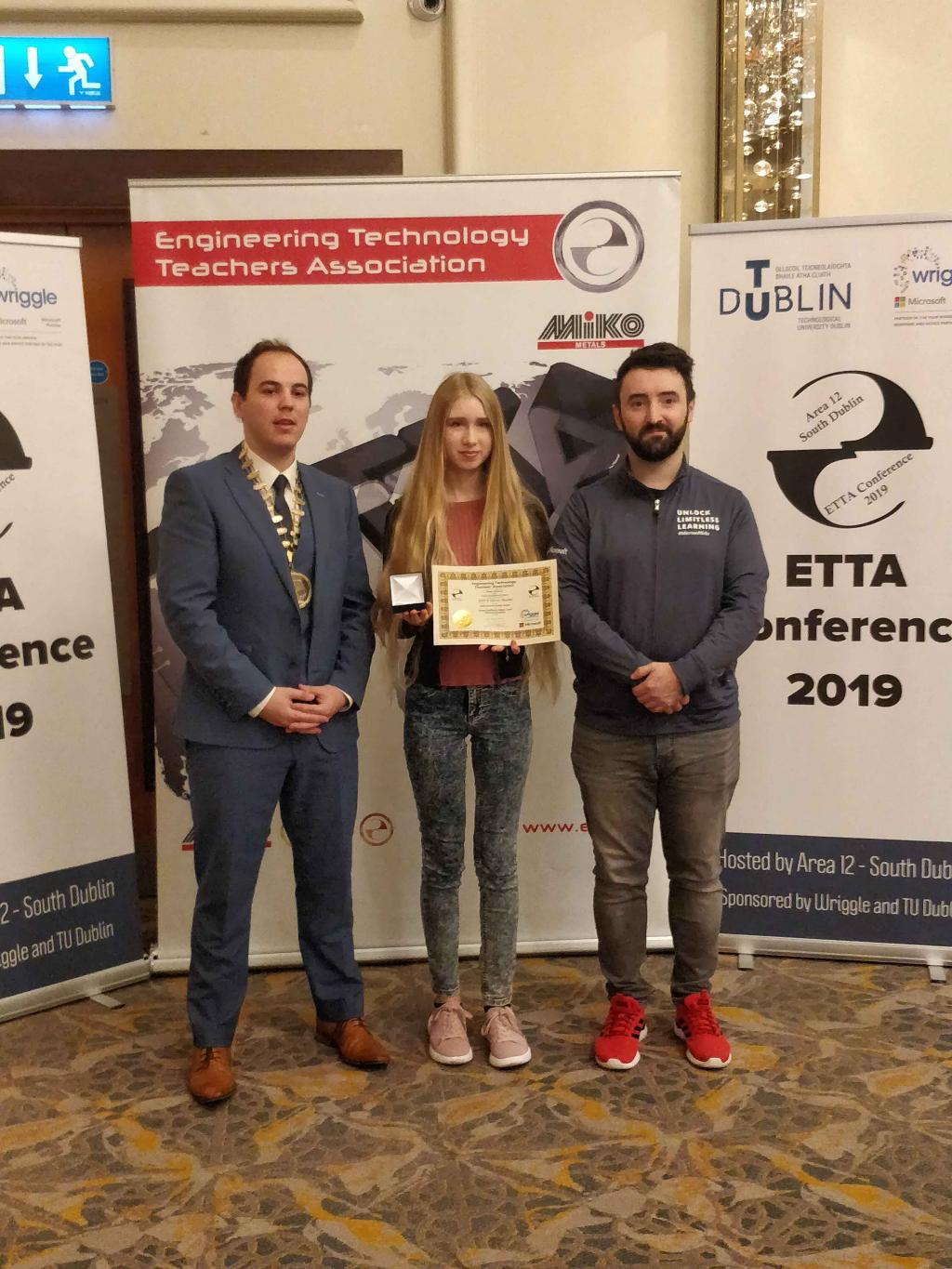 Congratulations to Emily Coleman who received the highest mark nationally in Junior Certificate Technical Graphics. This is a phenomenal achievement and reflects Emily's incredible, work ethic, talent and dedication.
Open Night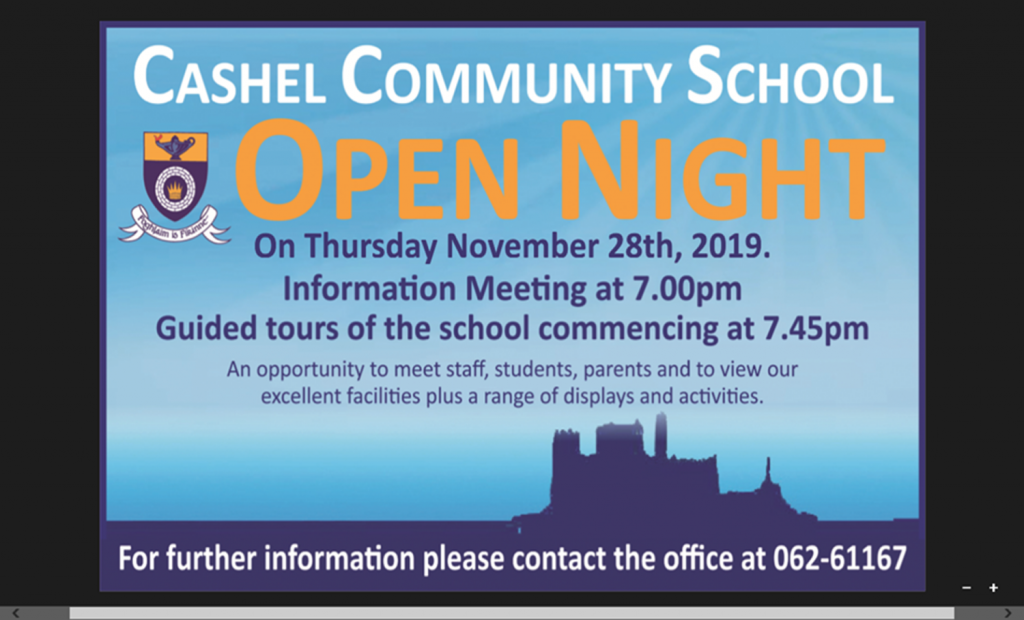 Dear Parent/Guardian, Please be advised that Cashel Community School will host its annual Open Night on Thursday the 28th of November. We as a School community would like to invite all parents who are considering enrolling their child to come along and share the experience with us.
Theme Night at The Addams Family
Thank you to all those who made the special effort to get dressed up for our Theme night last night. Limited number of tickets still available for Friday and Saturday nights show. Booking advisable from office 062 61167, Small number of tickets will be available on the door. A great night's entertainment is guaranteed!
November Tree of Remembrance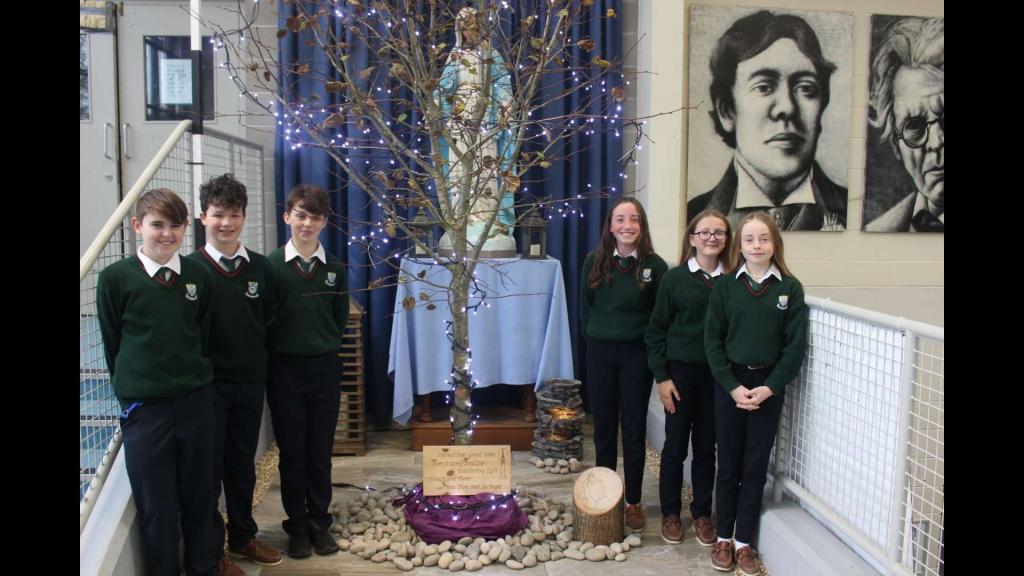 This November we remember our deceased relatives and friends. We invite staff, students and visitors to the school to write the names of their loved ones and hang them on the Tree of Remembrance. They are always in our thoughts and forever in our hearts, may they rest in peace, Amen.
Halloween Mid Term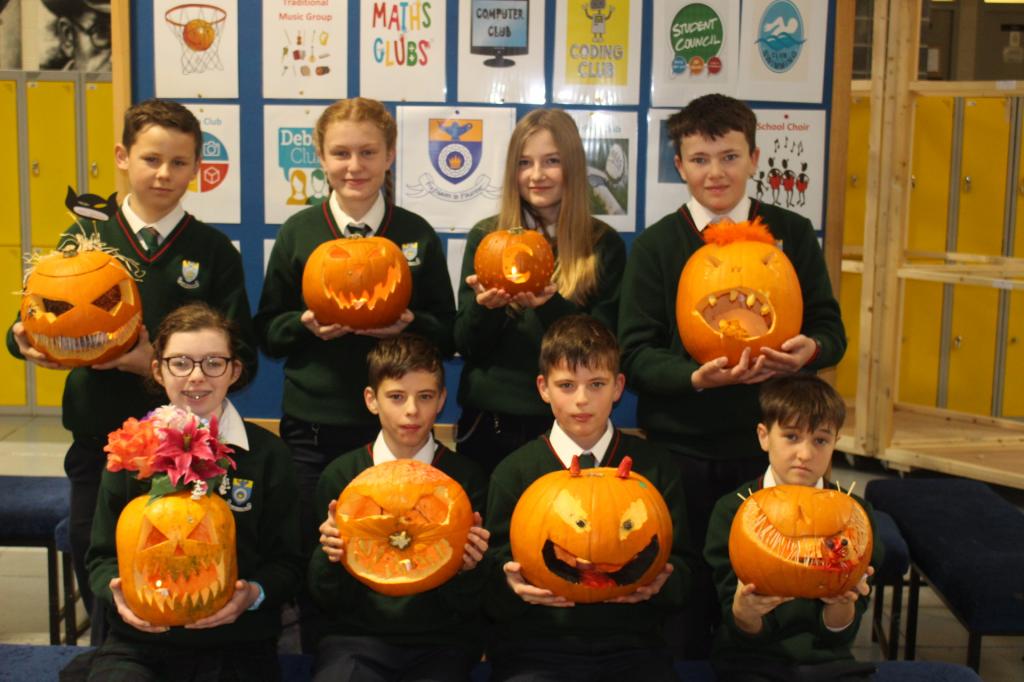 Dear Parent/Guardian/Student, wishing you a Happy Halloween Mid Term break from all the BOM and Staff of Cashel Community School. Special thanks to all the students who took part in our pumpkin competition well done to all..
School Musical "The Addams Family"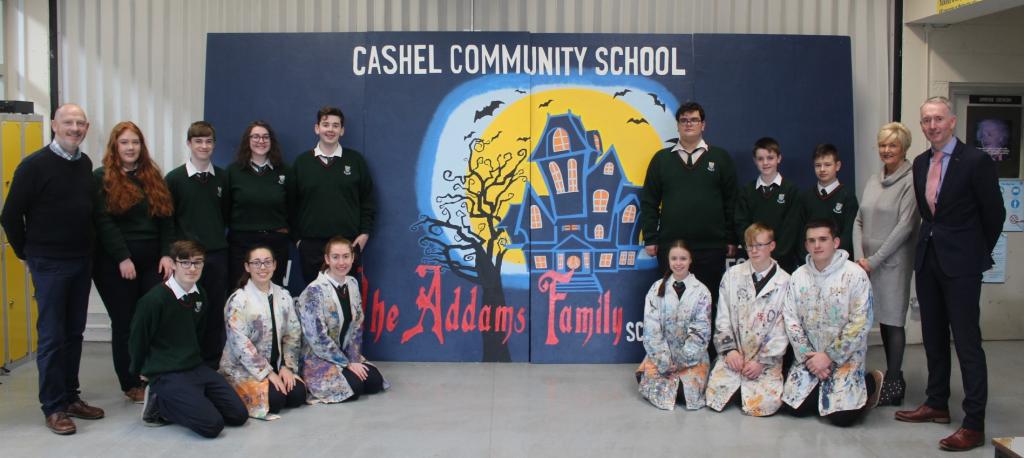 Cashel Community School's 26th annual musical production is "The Addams Family". Based on characters created by Charles Addams, "The Addams Family" explores the creepy, kooky, weird and wonderful household immortalized in cartoon, television and movies. In this new musical comedy, Wednesday Addams has grown up and fallen in love with a sweet young man from -- gasp -- a respectable family. She's confided in her father, and now Gomez Addams must do the unthinkable: keep a secret from his beloved wife, Morticia. Change is just around the corner for the entire family in this delightful tale, created by "Jersey Boys" authors Marshall Brickman and Rick Elice, with music and lyrics provided by the award-winning Andrew Lippa. "This musical comedy takes all the wonderful things we know about 'The Addams Family' and moves the story forward," said Craig Rich, director of the play and chair of CLC's Theatre Department. "Young adults will relate to Wednesday and Lucas trying to find their own path, but still wanting their parents' blessing. Those of us a little older will relate to Morticia, Gomez and Lucas' parents. They want the best for their children, but are having a hard time accepting that they have grown up. In a broader context, these two families, from very different backgrounds, are trying to work through their differences and find common ground. The musical does this in a comic way, but the message is something all of us can relate to." Each year the school musical provides our students with the opportunity to develop socially, personally and artistically by joining the cast of the chosen production. Cast members always remember the show as one of the highlights of their school lives and I know they cherish the memories for many years to come. By the time the curtain closes, there will have been new friendships forged and, of course, lots of fun had by all. This year's cast have been busy at work in preparation for what will be a most exciting and not to be missed show. It is wonderful to see so many students treading the boards, some for the very first time. Of course we can't forget our established members whom have been wonderful stalwarts over the years and this will no doubt shine through once again. The show runs from November 6th to 9th in the school hall. Tickets are €15 with concession of €10 on Wednesday night only. Tickets available from school office on 062-61167.
TY Climate Justice
Transition Year Religion classes are busy this year asking students to bring in their bottle caps of all shapes .They are hoping to collect enough bottle caps to make some creative murals . The murals idea was inspired by a Co. Wexford community initiative that the students hope to achieve this year. The project will send the message to the wider community to reduce and recycle single use plastic to help the environment . The project is called 'Cap Yourself On', to highlight the damaging effects of plastic on the environment especially in our seas and rivers, This is a useful video on recycling: https://www.youtube.com/watch?v=sZZsBedy0CU
Laudato Tree Presentation TY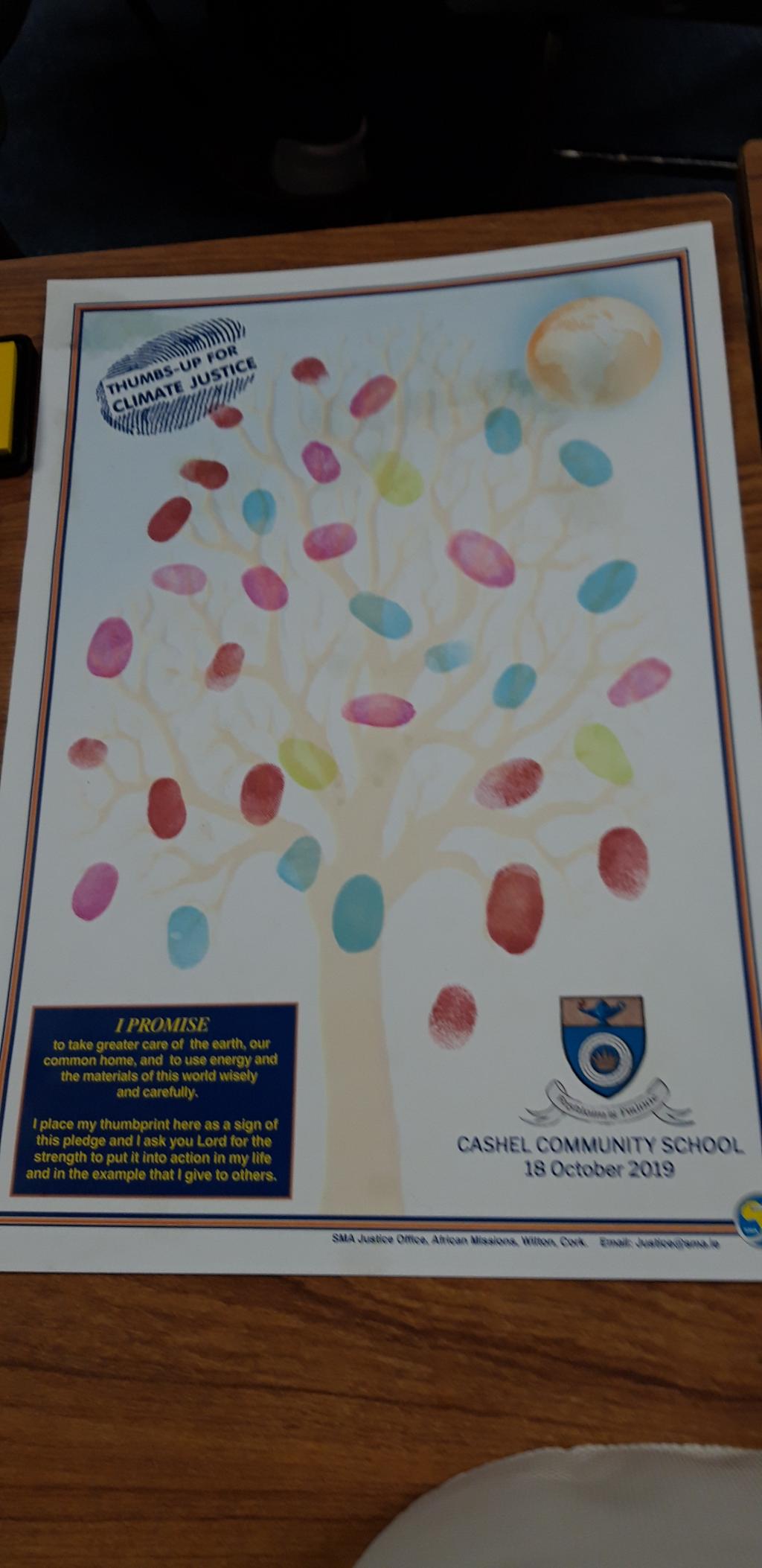 Last week TY students in Religion class were visited by Nora Casey and Katherine Dullaghan from the Thumbprint Campaign. The great injustice of climate change is that the poorest who live in less developed parts of the world, and who do least to cause climate change, suffer most. The students plan to create more awareness around this campaign, highlighting the importance of tree planting. The Thumbprint Campaign for Climate Justice asks students to pledge to be better guardians of the Earth. The main action in the Thumbprint Campaign for Climate Justice is putting one's thumbprint on a Pledge and on a Card containing the Campaign Pledge on one side, and a list of recommended acts for Climate Justice on the other. At the core of this campaign are the beliefs that acting to reduce climate change is a matter of faith and justice; and also that the contribution we as individuals make can make a difference. For more information see - https://sma.ie/thumbprint-campaign-history/
First Year Mass of Welcome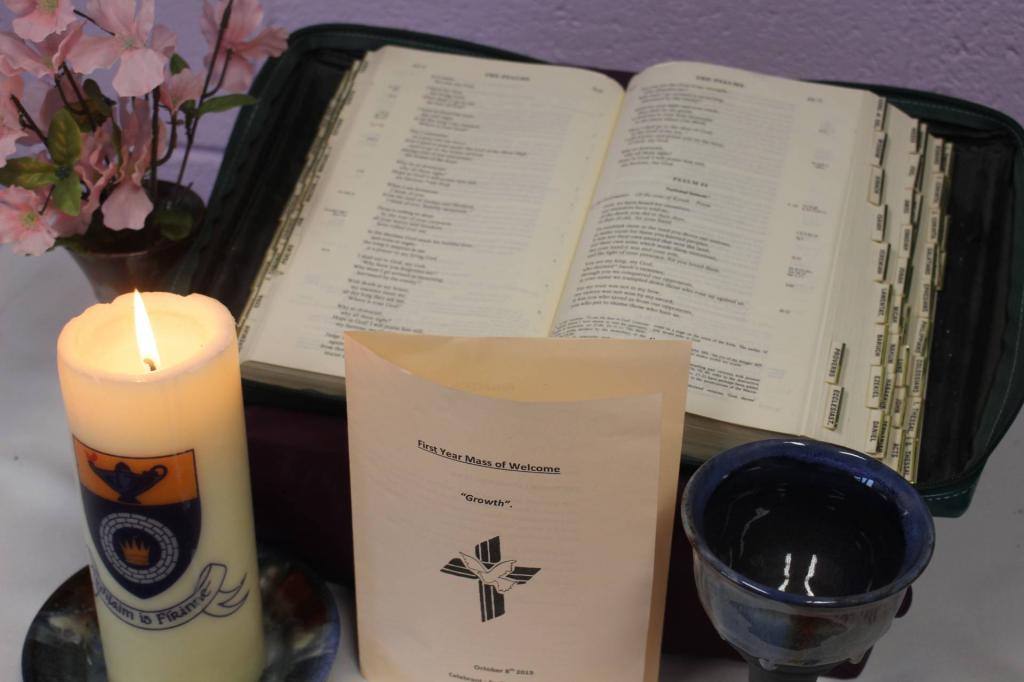 First Year mass of Welcome. Each year the First Year Mass of Welcome is a special evening in the school calendar. This year was no exception. The theme of this year's celebration was Growth. Mass was celebrated by Fr. Enda Brady. All First Year groups took part in various parts of the liturgy. During the presentation of gifts at the beginning of the liturgy students brought forward plants, class photos, extra-curricular activity posters and a candle to represent growth, talents and abilities, friendship and character & mind/ body/spirit respectively. In his homily Fr. Brady reminded all present that everybody is unique each blessed with a special gift or talent. It was against this backdrop that he blessed symbols representing gifts & talents of the First Year students. At the end of the mass Mr. Gallagher (Principal), thanked everybody for attending and he also thanked those who made the prayerful liturgy possible. Mr. Gallagher reserved particular mention for the First Year students who took part in the liturgy and the choir under the guidance of Ms. Bradley & Ms. Colbert. All present then gathered in the school foyer for refreshments and a chat to conclude what was a very enjoyable occasion.
TRANSITION YEAR DAY OF REFLECTION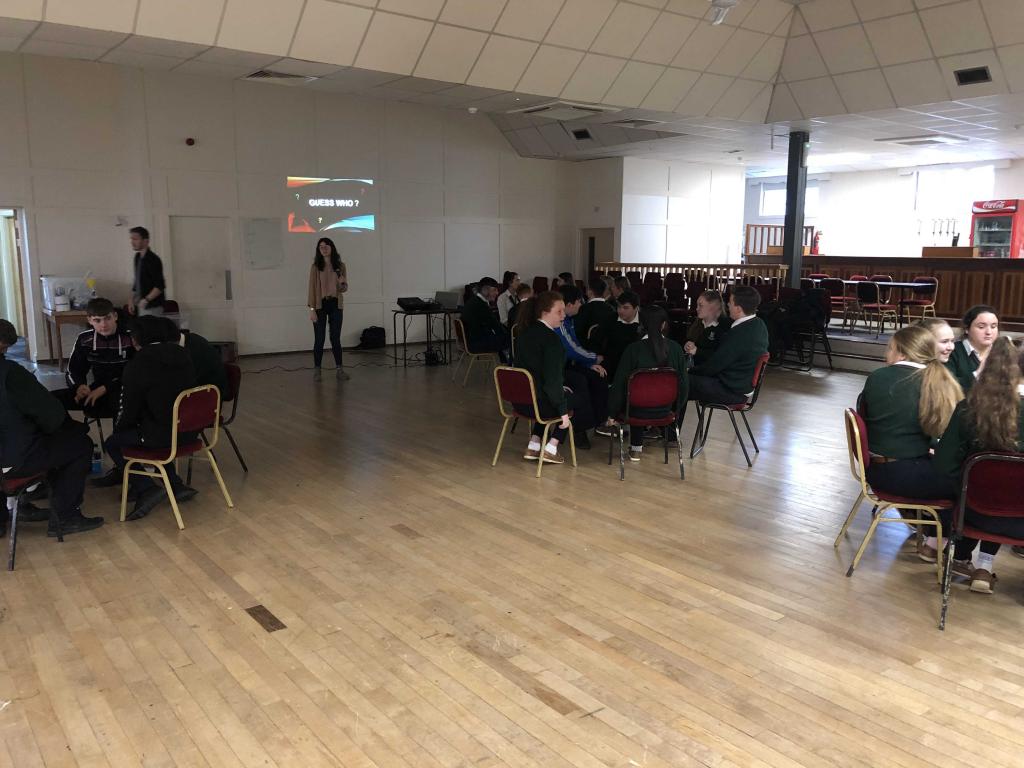 The annual day of reflection for Transition Years took place in Halla Na Féile, Cashel on Wednesday & Thursday 16th & 17th of October. The days of reflection were given & directed by An Tobar Nua retreats based in Galway (https://antobarnua.com › retreats). A meaningful and fun experience found students looking at issues both of a spiritual and wellbeing nature. The theme of both days was resilience. The leaders Seamus, Riain & Megan guided both days in a very respectful, dedicated and experienced manner. A truly meaningful and enjoyable experience was had by all.
GAA Coaching Course AWARD 1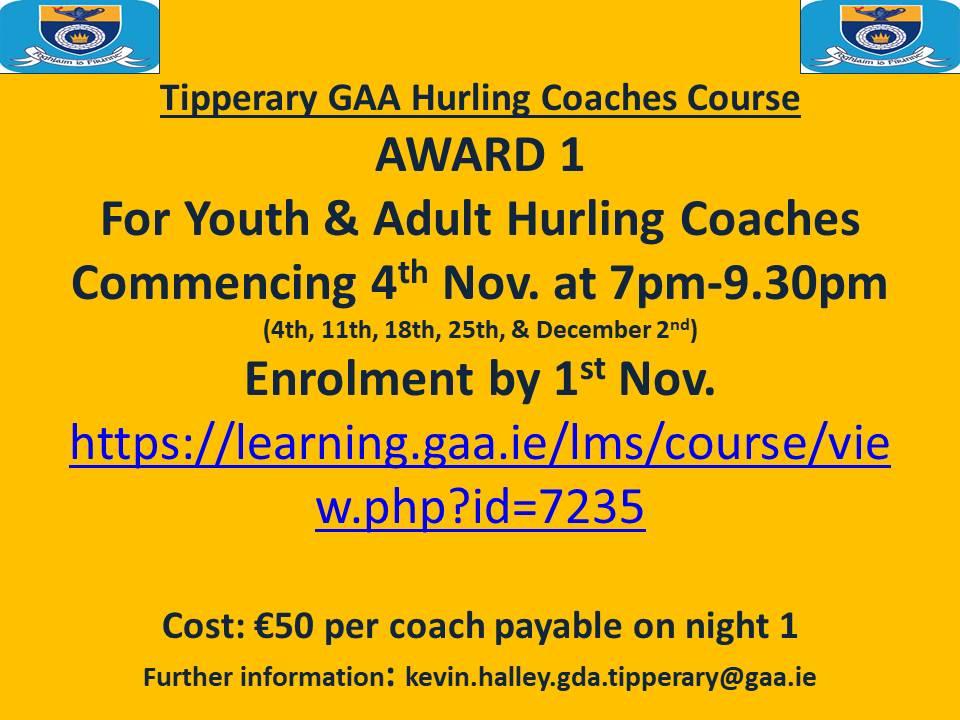 Tipperary GAA are holding a 5 week course in Coaching commencing on 04/11/19
CAO Presentation
Please find tonight's CAO presentation attached in the pdf. https://aef6e61d7a502de4127f-e3d6cec3d053fc9a03ef4a4c0fe9b857.ssl.cf3.rackcdn.com/pdf/1862_20191016153356.pdf
Darragh Hogan - Youth Assembly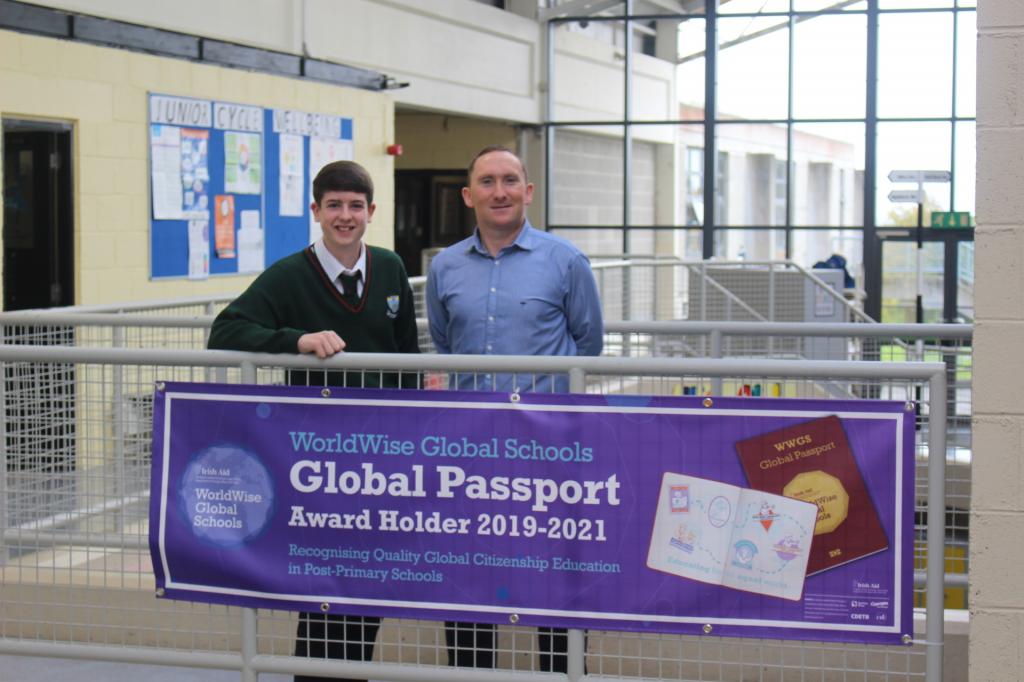 Fifth Year student Darragh Hogan has been selected to participate in the Youth Assembly on Climate Action in Dail Eireann in the coming weeks. 157 pupils from around the country have been selected to participate and they will sit in the Dail Chamber. It will be chaired by the Ceann Comhairle and will go out live on RTE News Now. Darragh is a member of the Cashel Community School Student Citizenship Committee, and he received World Wise Global Schools Training last year and has shown great leadership to date.
Junior Cert Results 2019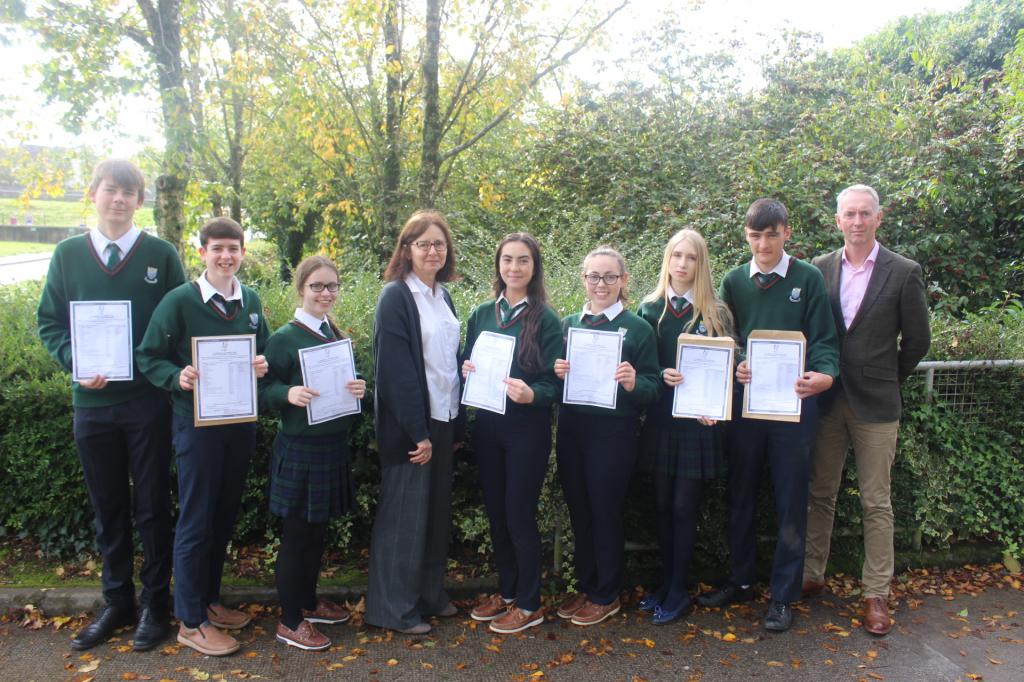 Junior Cert Results Friday the 4th of October was a very big day in the lives of Cashel Community School Junior Cycle class of 2019.The late release of these results and the rationale behind this decision has been well documented. That said, on the day many students approached the school with both excitement and trepidation. Students had the opportunity to meet their classmates in the school lobby while waiting for their individual envelope. Results were greeted with screams of joy, laughter and in some cases relief as students jumped for joy. Although there were extremely high results by certain students staff commented on how all students reached their potential and this will certainly give them confidence going forward. It was marvellous to see the delight and sheer happiness of those young people as they received the results of all their efforts. A new grading system for some subjects means the number of students receiving top marks in the Junior Cycle Exams plummeted, but 19 students still opened their results on Friday to find they had achieved the best possible set of results. One student whom the new system didn't affect was Emily Coleman. Emily received the top mark possible in all 11 subjects. The Principal Mr Gallagher paid a special tribute to Emily who achieved straight A's and Distinctions in all her subjects, this by any standard is a phenomenal achievement. Cashel Community School would like to congratulate the students who completed their Junior Certificate programme this year. The students were rewarded for all their hard work and efforts during the last three years. The Principal, John Gallagher, paid tribute to the committed teachers, guidance counsellors, SNAs and ancillary staff in the School and acknowledged the support the school receives from the parents in their collective efforts to constantly promote excellence and a good work ethic in Cashel Community School. Deputy Principal for the Junior Years Mr Murray said that "there were some tremendous results, however we in Cashel Community School believe that success comes in many forms .Whilst acknowledging the outstanding achievements of those pupils who scored very well in the Junior Certificate, we also recognise and applaud the excellent achievements of the many students who fulfilled their potential". Finally, we look forward to seeing our students build on these results as they progress into the senior cycle and beyond.
CAO Information Night Wednesday 16th October
Dear Parent/Guardian please be advised that there will be a CAO Information Night in the school on Wednesday 16th October.Parents of both 6th year and 5th year students are invited..
Happy Christmas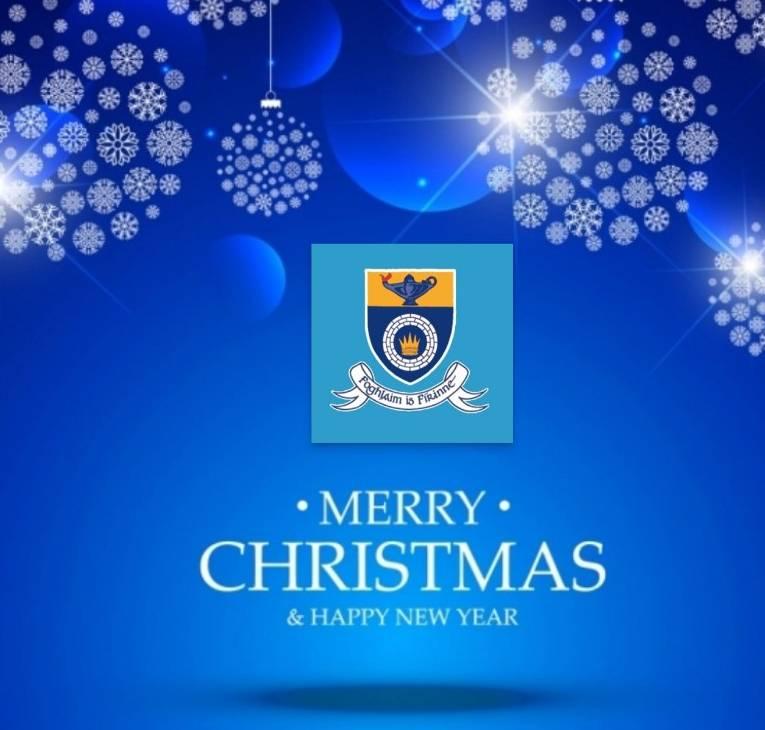 Cashel Community School would like to wish all our teachers, staff, students and their families a very safe and Happy Christmas. Enjoy the holidays. School will reopen on Monday 7th January 2019.