Sports Awards Ceremony 2019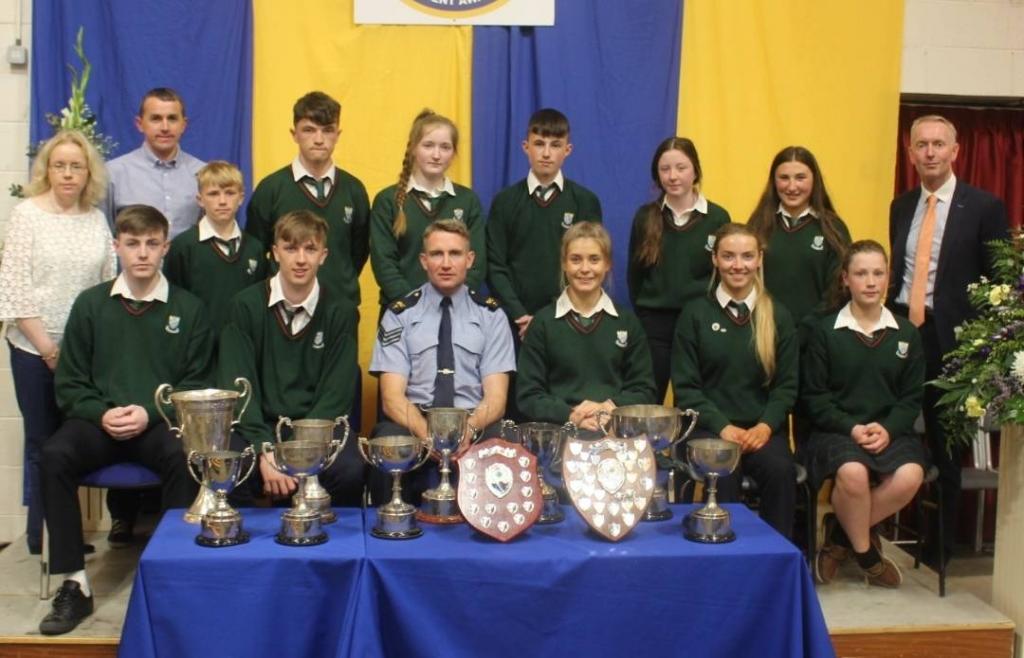 On May 25th the school community in CCS gathered for a sports awards ceremony, to recognise and celebrate the fantastic sporting achievements of so many students, across many different sports during the school year, while representing CCS. The school warmly welcomed its special guest for the occasion, former Kilkenny hurler, Mr Eddie Brennan; the winner of 8 All Ireland Senior hurling medals. He spoke with great humility about his achievements and his career. Being a team player, working hard to fulfil ones potential and being honest in terms of preparation, were some of Eddie's main points when addressing the crowd. The current Laois Senior hurling manager explained that he applied this approach to his hurling, to his chosen career and to management. The many teams and individuals who won County, Munster or All Ireland titles for CCS this year were then brought to the stage to be presented with their medals by Eddie. In Camogie the All Ireland Winning Senior and Junior teams were first up, followed by the first year camogie team who won the Munster A Blitz. The tennis team of Sophie O Meara, Eleanor Tobin, Siobhan O Connor and Kate Maher who won the Munster u19 Shield were next to receive their medals. They were followed by both U14 CCS boys football teams who won the A and C Tipperary competitions, and the Senior football team who bridged a 15 year gap when winning the Tipperary A football championship (McGabhann Cup). Next were the athletics trio of Shane Buckley, Brian Byrne and Grainne O Connor, who between them won 3 county titles, 3 East Munster titles, and 1 All Ireland title (Shane at 2.5k Cross county). The Ladies footballers were next to be recognised, with the Senior team who won the Munster B title 1st up, followed by the Junior team who beat the Ursuline Thurles in the Junior C Munster final before coming from behind to win the All Ireland final. The Senior Soccer team who won the Dick Wood Cup were next, followed by the CCS Junior Swimming team of Clara Matthia, Aibhe O Dwyer, Anna Movchan and Carrie Anne Ryan who won the Munster bronze medal. Also recognised were the students heavily involved in both the Cycle Against Suicide and the Cashel Darkness Into Light events, along with the 6th year students who received Silver Gaisce Awards in October. These included Alex Davern, Sara Jane O Connor, Caoimhe Crosse, John Furlong, Lorcan Webb, Daniel Ryan, Jack Ryan C and Jack Cathal Ryan. The final team to receive their medals were the Pitch and Putt team of Sean O Neill, Ben White and Adam Buckley who won the Tipperary competition. MC for the occasion Brendan Ryan congratulated all students who were involved in representing CCS in 2018/19, and especially thanked the many 6th years who had played such huge roles on various teams throughout their time in the school. He encouraged 5th year students to step up and fill the leadership roles vacated by the current 6th years. Brendan thanked the school management team, teaching staff, SNA's, office and caretaking staff for assisting and facilitating all extracurricular activities. He finished by saying a huge thanks on behalf of the students to the teachers who give so much of their free time to preparing for and competing in the different sports. Photo includes Eddie Brennan with award winners. Also in photo Mr. John Gallagher, Principal, Ms. Margaret Moore, Deputy Principal and Mr. Brendan Ryan.
Darkness Into Light
Congratulations to all students and staff who participated in the Pieta House Darkness Into Light Walk recently . The school has a long association of fundraising for Pieta House spearheaded by Mr.Brendan Ryan . First year class 1 Barrow went the extra mile and made awareness posters prior to the walk . Last week the class accompanied by Ms.Caitriona Ryan visited the local Parish Centre for a well deserved treat . Thanks to PP Fr.Enda Brady for facilitating this visit . Thanks to everybody who left their bed to walk together in darkness , community spirit is alive and well.
Wellbeing Garden Space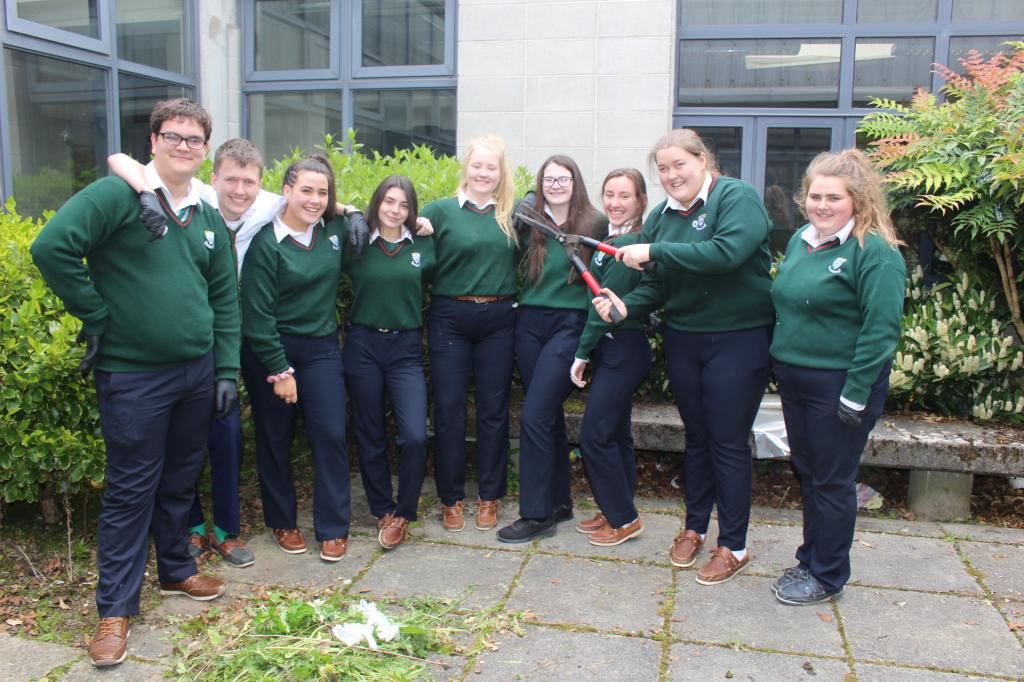 Picture here are some TY students who volunteered to clear the garden space recently and give it a fresh look. This space will be open to students and invites them to take a quiet moment during the day especially during exam time. The turtle flower planter is a gentle reminder to slow down a little and take a breath during the day. Next year first year students will work with Transition Year students creating different themes during the year using up-cycled materials, watch this space. "Never underestimate the healing power of a quiet moment in the garden ".
Cashel Community School Student Awards Night 2019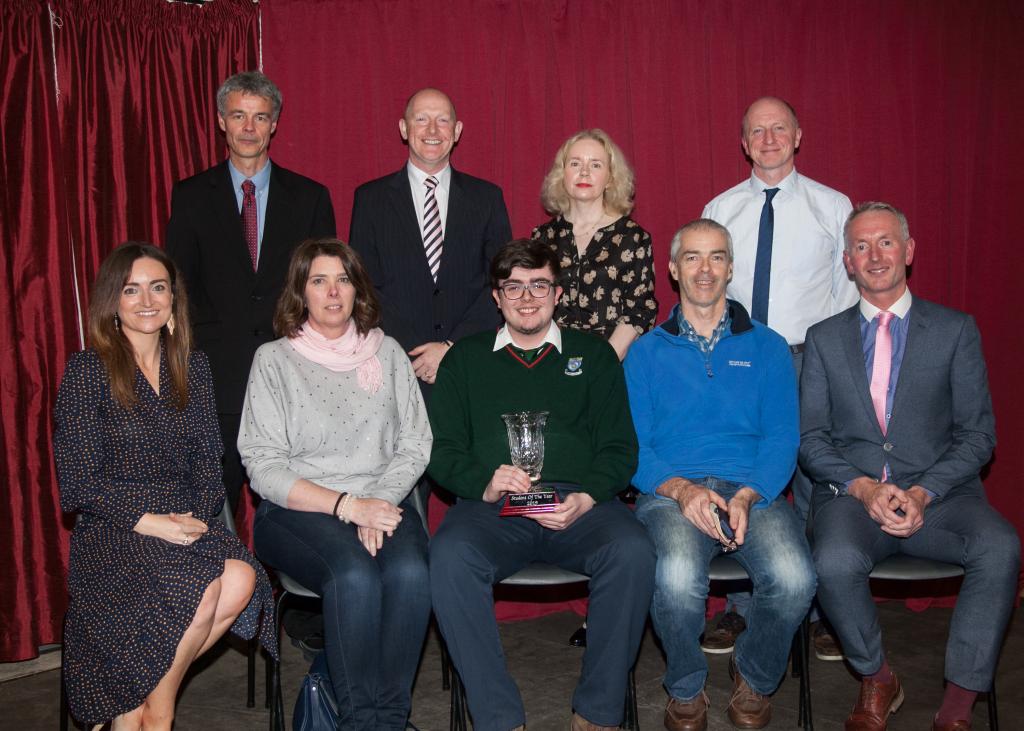 Cashel Community School Student Awards Night 2019 The annual Student Awards Ceremony took place in Cashel Community School on Thursday 23rd May. This is one of the highlights of the school calendar and is looked forward to by students, staff and parents/guardians alike. This year's ceremony was the 22nd such ceremony in the school's history. Guest speaker for the evening was past pupil Ms Denise Manton from Rosegreen, class of 1997. Denise obtained a BSc Degree in computer applications from CIT and a MSc in technology management from UCC. She is now working as a Business Development Manager for Lero in UL having previously worked for various companies in business development and software. Denise spoke of the unique atmosphere of Cashel Community School and of some of her memories of school life. She paid particular tribute to the teachers who encouraged her to take up a career in the area of science, technology, engineering and maths (the so called STEM subjects) and stressed the need for encouragement of students to partake in these subjects as there will be a lot of jobs in those areas in the coming years. She acknowledged the role that teachers and staff played in providing a well-rounded education both inside and outside the classroom. She said it prepared her to be able to adapt and be open to change in this ever changing technological world. In conclusion she congratulated the award winners and wished the students the very best in their upcoming exams. In total 142 awards were presented over nine different categories on the night- class, full attendance, sport, creative writing, cultural, best Leaving and Junior Certificate results, project work, special awards, and the prestigious Student of the Year. In total 34 class awards were presented to students from 1st to 6th year by their Year Heads. 57 students managed to achieve full attendance in the 2018/19 school year. 6th Year student David Barnett achieved full attendance for his entire six years in Cashel Community School. 7 students obtained creative writing awards in the areas of poetry, short stories and essays. 20 awards were given out in the sporting areas including basketball, camogie, hurling, Gaelic football, ladies football, soccer and rugby. This category also included the Friends of Cashel Community School GAA Awards which were presented to two students and four scholarships, 2 from Friends of Cashel Community School GAA and 2 in soccer. 13 students excelled in the cultural area and were presented with awards for art, music, choir and the musical. 3 students were presented with awards for project work in the areas of agricultural science, woodwork, technology and craftsmanship. 6th Year student Andreea Gherasim was the winner of the Gerry Ryan Memorial Award for excellence in art. Gerry taught art in Cashel Community School from the day it opened. His commitment to his students and to the school was boundless. He was an extremely accomplished draughtsman and as a printer and craftsman he was peerless. His talent for sharing his skills with his students was prodigious. The Michael Purcell Memorial Award was presented to third year student Iuliana Zlotesco for her Junior Certificate Woodwork project. Michael was a woodwork and technical graphics teacher in Cashel Community School from 2003 until his untimely passing in 2016. He had a huge interest in design and loved to see students use and develop their design skills as part of their Junior Certificate Woodwork Project. Brendan O'Dwyer was presented with the award for Best Leaving Certificate results 2018 having obtained top grades in a broad range of subjects. Cate Maher obtained the best Junior Certificate results with 10 A grades on a range of subjects including languages, science, history and geography. 4 Special Awards were presented on the night for (1) outstanding contribution to GAA, (2) commitment shown to Cycle against Suicide, (3) commitment and dedication shown to self improvement at his studies and (4) demonstration of and commitment shown to developing School Spirit. The most prestigious award of the night was Student of the Year. By their outstanding display of academic achievements, personal qualities and support for school values, past winners have added to the integrity of this award. In making their selection teachers were asked to take the following into consideration: academic record, achievements, leadership and initiative qualities, good interpersonal skills, school involvement, moral courage, any positive quality and someone who has credibility with both the staff and student body. After two rounds of voting Donnacha O'Dwyer from Ardmayle was named as Student of the Year 2019 and is a very worthy winner of this accolade. Mr John Gallagher, principal of Cashel Community School described Donnacha as "a diligent, determined and independent young man with a deep interest in education and who completes everything in a quiet and unassuming manner." Donnacha is taking 7 higher-level subjects for his Leaving Cert. He is no stranger to the school awards system having previously received a class award and creative writing awards. Donnacha received a Certificate of Excellence in TY and completed a number of courses including a First Aid Course, WIT MiniMed course and ECDL during that year. He was heavily involved in the school musicals playing leading roles during the last three years including Pontius Pilate this year in Jesus Christ Superstar. He was a member of the school choir who took part in such events as the RTE mass and the 100 year anniversary of the 1916 rising. Donnacha is a 6th Year Link student helping first year students settle into life in Cashel Community School. Outside of school he plays guitar and holds certificates in piano from the Leinster School of Music. Music on the night was provided by the Equal Voice and Senior Boys Choirs under the direction of Ms Liane Bradley who delighted the audience with three varied pieces of music. Mr Michael Moore (Student Awards Co-ordinator) was assisted on the night by members of the Student Council Jennifer Fogarty and Emma Roche and by TY students James Murphy and Derrick Winson. A big thank you to all staff and students who helped out in any way in making the ceremony such a success. We acknowledge all the students who did not win awards this year but nonetheless make a very valuable contribution to life in Cashel Community School. We encourage your ongoing participation in school life and look forward to being able to reward your achievements in the future. We also wish all our award winners the very best in their future exams, especially our 3rd and 6th year students who will be facing into state examinations in the coming weeks.
Global Citizenship Education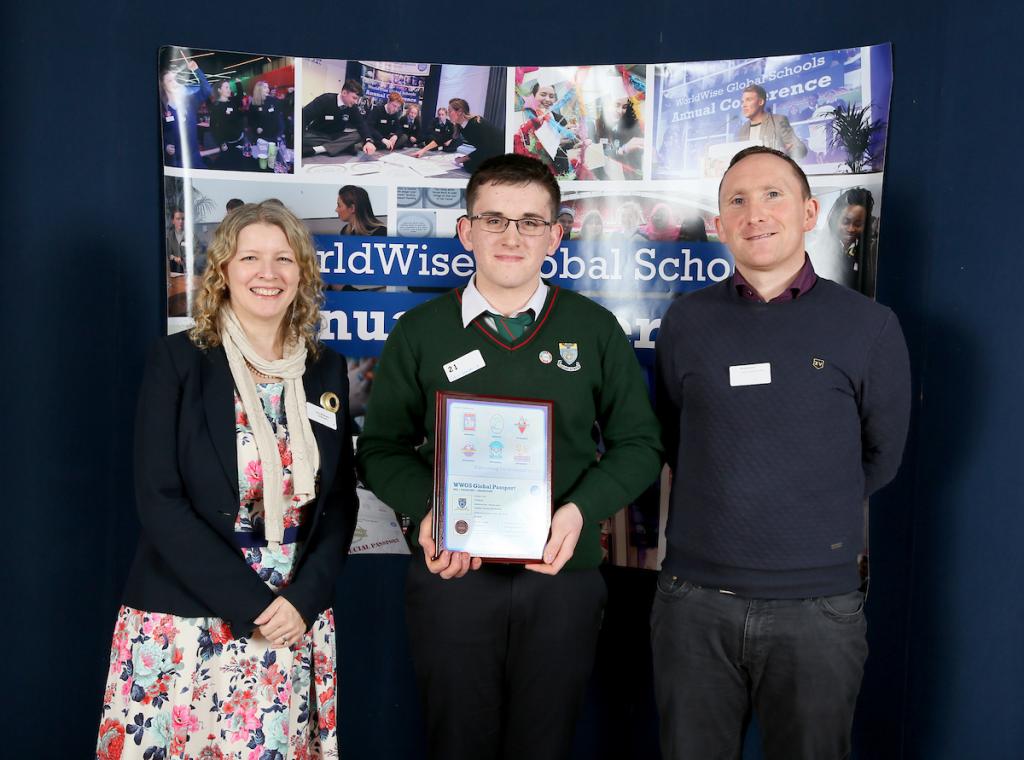 Cashel Community School are proud to have recently received a Global Passport Award The Global Passport Award is an EU recognised quality mark, which offers schools a framework to integrate Global Citizenship Education into their teaching and learning Global Citizenship Education (GCE) is an educational process aimed at increasing awareness and understanding of the rapidly changing, interdependent and unequal world in which we live. By challenging stereotypes and encouraging independent thinking, GCE helps students critically explore the root causes of global justice issues and how they interlink with our everyday lives. GCE inspires global solidarity by supporting people to fully realise their rights, responsibilities and potential as global citizens in order to take meaningful action for a just and sustainable world Global Citizenship Education • Is about teaching and learning through a global justice lens • Allows students to explore the knowledge, skills, attitudes and values necessary to become global citizens • Cultivates the key skills at Junior and Senior Cycle • Facilitates students to take action for a more just and sustainable world https://aef6e61d7a502de4127f-e3d6cec3d053fc9a03ef4a4c0fe9b857.ssl.cf3.rackcdn.com/pdf/7638_20190528102309.pdf
Uniforms Now Available

Helen's Kidswear Ltd. Friar Street, Thurles, has the Cashel Community School uniforms now in stock. Easy payment plan available and deposits taken on all items.
Dean Byrne Memorial Cup 2019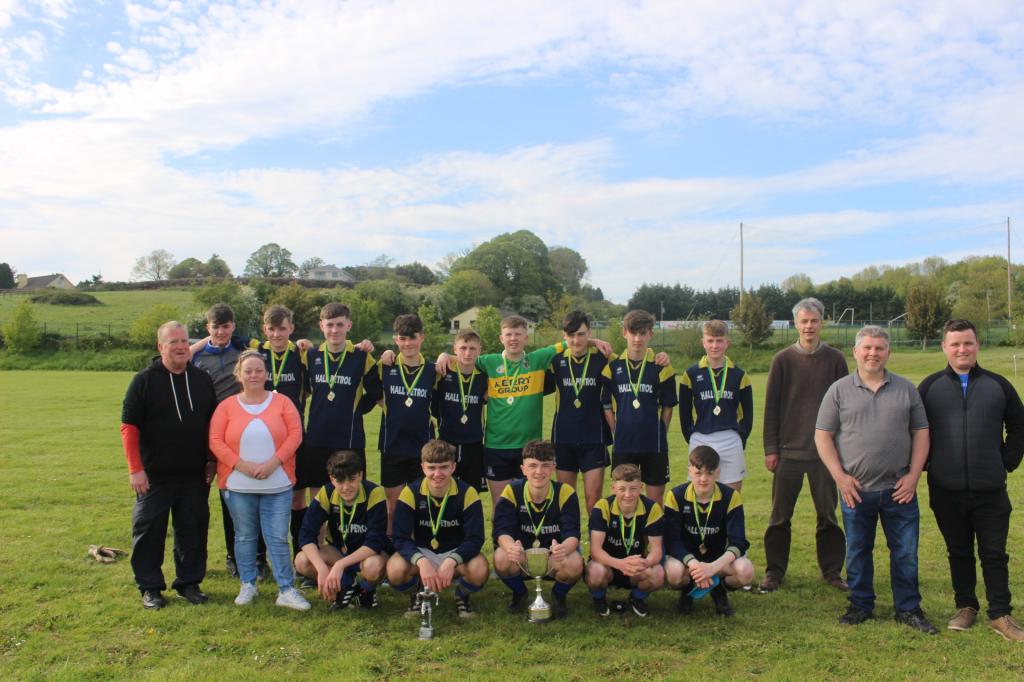 The annual Dean Byrne Memorial Cup match between CCS and Cashel Town AFC took place on Wednesday 15 May. A fine crowd was in attendance to remember Dean and to watch an entertaining match that saw CCS emerge victorious by 3 goals to 2. Deans brother Alan presented the cup to CCS captain Tom Marnane. Man of the match was awarded to Jame O'Sullivan. Well done to all involved and a special word of thanks to the Byrne family and to Martin Coleman.
Dick Wood Cup WInners 2019

The final of the Dick Wood Cup took place in Cashel last Tuesday, May 7th , between Cashel and Cahir. This is the eleventh year of the competition which is played for between Rockwell, Cahir, Cashel and Killenaule in memory of the late Richard (Dick) Wood, a founder member of Cashel Town soccer club. His sons Tom, Richard and Liam donated the cup to Cashel C.S to be played for in his memory and so began this now prestigious South Tipperary competition. This year's final featured two very evenly matched sides, who both like to play an attractive brand of football. However for the first 25 minutes or so defences were on top and there were no clear-cut chances, until the 28 th minute when Cahir's Reece Byron weaved past three Cashel players before firing low to the bottom right hand corner to give Cahir a 1-0 lead. Back came Cashel and ten minutes later they equalised through Evan Hynes following good approach work by Ethan Gayson Molloy. This comeback was short lived, as three minutes later, Cahir regained their one goal advantage after Thomas Burke found himself in space and finished to the Cashel net. The scoreline remained until early in the second half, when in a devastating five minute spell, cashel scored three times through Evan Hynes, Callum Meagher and Liam McGrath. Cahir rallied but never really recovered and with five minutes go Liam McGrath struck again to leave it 5-2 to Cashel. This proved to be the final scoreline which meant that Cashel have now achieved three wins in a row in the competition, the first school to achieve this. A presentation of medals was made by Liam Wood, representing the Wood family, afterwards to both teams and match officials Nicky Coughlan, Paddy Kane & Billy O'Donoghue. The medals were kindly sponsored by Joe Aherne of the Rock House, Cashel. The final presentation of the day was presented to Evan Hynes who was awarded the man of the match trophy, selected by the match officials.
25th Anniversary Musical Extravaganza
The weekend of the 10th of May brought the curtain down on Cashel Community School's 25th anniversary celebrations. On Friday 10th of May past and present students took to the stage for a 'Musical Extravaganza'. This much-anticipated event featured the school's award-winning choirs and cast members from some of the many musicals staged over the years reprised their roles from hits such as 'Phantom of the Opera' and Les Misérables. The programme also features a celebration of the music of Andrew Lloyd Webber. There was a solo dance, piano and vocal performances and former Minister for Education Niamh Bhreathnach formally launched 'Solid Foundations'- a book compiled to celebrate the school's first quarter of a century. On Saturday the 11th of May the school opened to the public from 2.00-5.30 p.m. The Parents' Association hosted afternoon tea on the day and at 6.30 that evening the parish Mass in St. John the Baptist Church included a celebration of School's the anniversary. The school choir and members of staff and students, past and present participated in this ceremony.
Solid Foundations Book Launch
The book 'Solid Foundations' was produced to capture the memories and stories of Cashel Community School over the past 25 years.The publication was complied by former Principal Eddie Morrissey and teacher Mary Coman.While the book does not claim to tell the full story of the school it is hoped that it will provide the reader with a collection of memories and facts which will give a glimpse of some key moments in the life and times of Cashel Community School. Former Minister for Education Niamh Bhreathnach formally launched 'Solid Foundations'- a book compiled to celebrate the school's first quarter of a century on Saturday night.Copies of the book are now currently available from the school office ,priced at €10.
Bóthar Fundraiser
For the past twenty weeks Ms. Sheils' 3rd year Geography classes have participated in a student led project to raise funds for Bóthar. Each student donated 50 cent a week each and raised over €630. They hope to send an in-kid dairy goat, a flock of laying hens and three honeybee hives to deserving communities in the developing world. Well done to all!
Cycle Against Suicide Invitation
Dear member of Cashel Community School . After months of preparation , organisation and training the big day is fast approaching . On behalf of the CAS team we would like to invite you to join us as a school community in welcoming the CAS peloton this Friday at 5:30 p.m to CCS. Also we extend an open invitation to participate and support the awareness activities which are being hosted in the school and it's grounds from 9:30 onwards on Saturday the 4th of May. This unique event is a result of the accumulation of three years of work on this specific project. May l take this opportunity to thank all those involved over the last three years . Hoping to see you there . Go Orange
Happy Christmas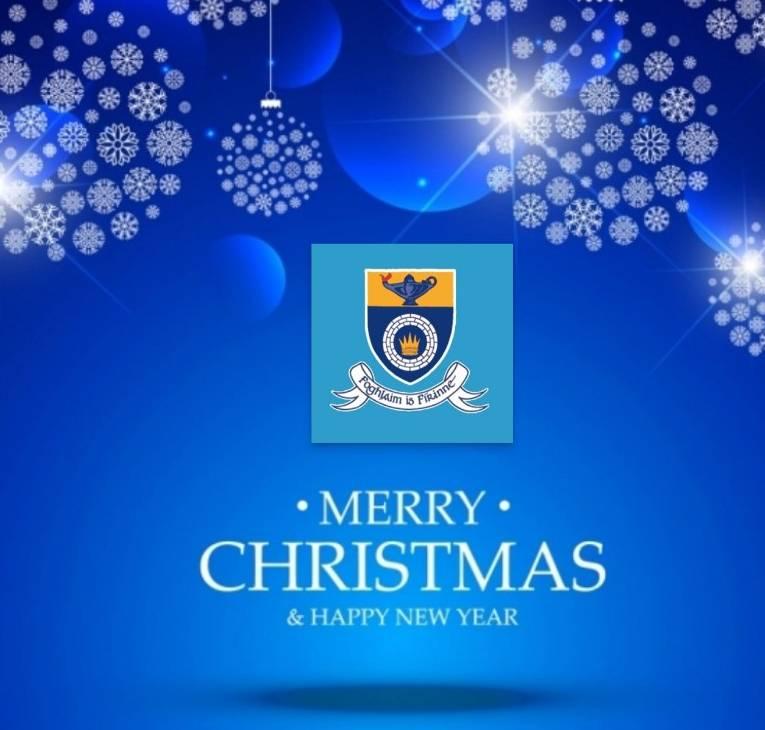 Cashel Community School would like to wish all our teachers, staff, students and their families a very safe and Happy Christmas. Enjoy the holidays. School will reopen on Monday 7th January 2019.
Quarter finals for Cashel seniors as they ease past Ennis
Cashel Community School ensured their passage into the quarter finals of the Thomais Mhic Choilm cup with a six point win over Rice College Ennis on Wednesday last. In a game that was played in very suitable conditions for the time of year Cashel hit the ground running. Immediately from the throw in Cashel sought to assert their dominance and raced into a three point lead with Stephen Browne, Aaron Moloney and inside forward Aaron Browne raising white flags. Rice College got off the mark with a score from their centre forward but it was the Tipperary men who were firmly on top in the opening quarter. The Cashel inside forward line were finding space and causing problems for the Ennis backs resulting in two more points from a Browne free and another from Riain Quigley. Despite this period of dominance however Cashel were guilty of spurning at least two clear cut goal chances. They did eventually make the breakthrough when Quigley goaled after some good work from full forward Jack McGrath. As the game entered the second quarter the Clare side began to rally and hit 1-2 in a five minute blitz bringing the score line to 1-5 to 1-3. The Cashel men might at this stage have wondered would they rue those missed opportunities. The Cashel response did come courtesy of their dangerous inside line this time Browne with two and McGrath, one firing over points. They continued to finish the half well and goaled though energetic midfielder Aaron Moloney. The accurate Browne managed to raise one more white flag just before the ref's whistle to leave the scores 2-9 to 1-3 at halftime. The Tipperary team started the second as they had the first even down to the same opening scorer in Stephen Browne. The men from the Banner were not going to lie down however and again had 1-2 scored in a frenetic period of play which saw their own full forward line bear fruit leaving four between the sides. The lead was once again extended thanks to the brilliance of Browne slotting three vital points, two from play. The see-saw pattern did not end there however as Rice College once again raised a green flag. The Cashel men would be really put to the pin of their collar when their lead was cut to two through two further points leaving the score 2-13 to 3-8. One thing this Cashel side has shown so far in the campaign however is they have tremendous character. This came to the fore again as their back line thundered out with ball after ball in the closing stages and their forwards did the job at the other end accounting for the last four points to see them run out six point winners. This win was born out of the Tipperary team's greater consistency of work rate throughout the game. The Ennis defenders were chased and put under consistent pressure in possession which denied their forwards quality deliveries. Stephen Browne and the selfless Fearghail O'Donoghue lead the charge in this regard. Their other half line was equally impressive giving Cashel a strong foothold in the opening period and shoring up to see them over the line. Some lung-busting runs from Lorcan Carr and some tenacious defending from Conor O'Dwyer standing out. Overall they were value for their win and will now face either St. Joseph's Tulla or Colaiste Chriost Ri in a quarter final on the second Wednesday in January. Cashel team: Christopher Geraghty, Ben Loughman, Tomás Bourke, Jamie Duncan, Conor O'Dwyer, John Ryan, Lorcan Carr, Aaron Moloney(1-1), Liam McGrath (0-1), Jack O'Rourke, Stephen Browne(0-2), Fearghail O'Donoghue, Riain Quigley(1-1), Jack McGrath(0-2), Aaron Browne(0-9, 3 frees). Subs: Euan Ryan for Bourke, Ben Ryan for O'Rourke, John Marnane (0-1) for O'Donoghue and David Sinclair for Moloney. Also; Jack Currivan, Páiric Brosnan, Reuben Bourke, Brian Og O'Dwyer, Ciarán Moroney, Mark Casey and Conor Farrell.